Green Light for the Puma - Rheinmetall and Krauss-Maffei Wegmann to supply Bundeswehr with new IFV
Category: Defence Industry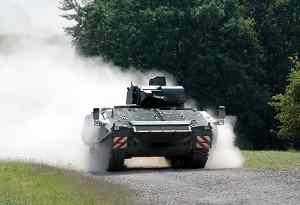 The German Bundestag's budget committee cleared the way today for the procurement of 405 new Puma infantry fighting vehicles for the Bundeswehr.
For Dusseldorf-based Rheinmetall AG and Krauss-Maffei Wegmann GmbH & Co. KG of Munich, the order represents a combined total of some EUR3 billion in gross sales.
Rheinmetall and Krauss-Maffei Wegmann each hold a 50% stake in the company tasked with the project, PSM GmbH of Kassel. Both hailed the decision as a crucial step in re-equipping the German Army for the future as well as being vitally important to the German defence industry and a whole host of medium-sized subcontractors. With its unique balance of tactical and strategic mobility, survivability and lethality, the Puma gives the Bundeswehr a state-of-the-art infantry fighting vehicle systematically tailored to the current and future operational requirements of the German military both at home and abroad.
This is the biggest single order in the history of Rheinmetall company, and definitely confirms their status as Europe's top supplier of army technology.
The Bundestag set the project in motion in September 2002 when it awarded a development contract for the new IFV, followed in 2004 by a €350-million procurement order for five pre-series vehicles and related services. These vehicles are currently undergoing intensive trials. The first serially produced Pumas are scheduled to enter service in 2010.
Today, more than thirty years after Germany first fielded the Marder IFV, the Puma is poised to significantly expand the Bundeswehr's capabilities spectrum, providing it with an entirely new category of tactical vehicle. In any international comparison, the Puma clearly represents the cutting edge in contemporary armoured vehicle technology.
Well-protected yet light enough to airlift, the Puma's modularity and expandability make it the perfect tool for international conflict management. No comparable vehicle provides its crew with such a high level of protection from typical conflict zone threats such as landmines, rocket propelled grenades and improvised explosive devices.
Rheinmetall
16.11.2007

Share...





Rheinmetall books ˆ110 million-contract to extend the service life of the Marder infantry fighting vehicle for the Bundeswehr
21.01.2020
Multimillion-euro order from Hungary
02.10.2019
Rheinmetall modernizing Puma infantry fighting vehicle and other equipment for NATO spearhead VJTF 2023
25.07.2019
Krauss-Maffei Wegmann supports the modernization of the Hungarian Army
22.12.2018
Krauss-Maffei Wegmann GmbH & Co.KG - KMW
Puma 4x4 (Reconnaissance Vehicle)
Puma 6x6 (Wheeled armoured personnel carrier)
BWP-1M Puma (Infantry fighting vehicle)
Puma (Infantry fighting vehicle)
Puma M26 (Mine protected carrier)
Puma M36 (Mine protected carrier)
Discuss