BAE Systems Receives Follow-On Orders Worth $1.1 B from U.S. Marine Corps for New MRAP Vehicles
Category: Contracts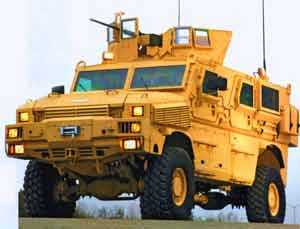 Arlington, Virginia -- BAE Systems has received two follow-on delivery orders worth a total of $1.1 billion under the U.S. Marine Corps' current Mine Resistant Ambush Protected (MRAP) contract for 600 RG33 Category II vehicles and 668 Caiman Category I vehicles.
BAE Systems is currently contracted to build three of the five MRAP variants, and is now under contract to deliver 2,730 Category I vehicles and 2,444 Category II vehicles.
This award, when combined with previous contracts, brings the total value of BAE Systems' MRAP contracts to $2.24 billion.
The RG33 order totals $645 million to produce 600 survivability enhanced-versions of RG33 Category II 6x6 MRAP vehicle, and to provide engineering change proposals and vehicle sustainment Integrated Logistics Support (ILS).
"The enhanced version has markedly improved the RG33 and incorporates the most advanced suite of armor protection giving its crew a decided edge in combat survivability," said John Swift, BAE Systems' MRAP program manager. "We are proud to be a part of such a noble effort. Our vehicles save the lives of soldiers and Marines every day."
The Caiman award, worth $458 million, calls for the delivery of 668 Category I Caiman MRAP vehicles, which are also enhanced to achieve high levels of survivability with enhanced mobility.
"BAE Systems' workforce is very proud to be offered the opportunity to deliver more Caiman to our hardworking Armed Services. This follow-on order demonstrates the effectiveness of the Caiman MRAP, our ability to deliver on our promises and our focus on the benefit to the United States," said Chris Chambers, BAE Systems' vice president of Medium/Heavy Vehicles.
BAE Systems
21.12.2007

Share...





BAE Systems` CV90 increases lethality by testing SPIKE LR anti-tank guided missile
14.01.2020
U.S. Marine Corps orders more Amphibious Combat Vehicles
11.11.2019
RAVEN Countermeasure System protects vehicles from missile threats
15.10.2019
BAE Systems unveils Robotic Technology Demonstrator Vehicle at AUSA
15.10.2019
BAE Systems Land Systems Hagglunds AB
BAE SYSTEMS Advanced Technology Centre
BAE SYSTEMS Customer Solutions & Support Land & Sea
BAE SYSTEMS Operational Training
BAE SYSTEMS RO Defence Small Arms Ammunition Division
BAE Systems North America, Land & Information Systems
Caiman MRAP (Mine protected carrier)
Caiman Light (Mine protected carrier)
Caiman MTV (Mine protected carrier)
Discuss