BAE Systems Wins U.S. Army Contract For New Engineering/EOD Vehicles Worth Potentially $2.288 Billion
Category: Contracts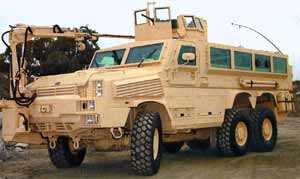 YORK, Pennsylvania – BAE Systems has been selected by the U.S. Army to be the sole producer of the new Medium Mine Protected Vehicle (MMPV), and has been awarded an initial $20 million delivery order under the $2.288 billion MMPV program.
The MMPV contract envisions production of up to 2,500 vehicles for use by U.S. Army Engineers and Explosive Ordnance Disposal teams through 2015.
Under the initial order, 9 MMPV test vehicles, test support, armor testing packages, vehicle basic issue items, such as first-aid kits and repair tools, training, and various contract data are due for delivery between May and August 2008.
"Our MMPV design is tailored specifically for the roles and missions of its users, and we believe it possesses the best balance of payload capacity, protection and performance," said Michael E. O'Connor, BAE Systems MMPV program manager.
MMPV is a multi-purpose, mine protected, 6x6 wheeled vehicle based on BAE Systems' next generation RG33 family of vehicles which U.S. Army engineers will use to conduct route and area clearance missions, command and control, mount mine clearing systems, and conduct explosive hazards reconnaissance. MMPVs will also be used by Explosive Ordnance Disposal teams to neutralize Improvised Explosive Devices, mines and other unexploded ordnance.
BAE Systems was competitively selected by the U.S. Army as the prime contractor. The selection was announced and the first delivery order was made December 19 by the U.S. Army TACOM Life Cycle Management Command.
Under a strategic Public/Private Partnership Agreement, BAE Systems and the Letterkenny Army Depot will perform automotive and final assembly production operations of these vehicles in facilities on and adjacent to the Letterkenny Army Depot facilities in Pennsylvania.
BAE Systems
10.01.2008

Share...





BAE Systems` CV90 increases lethality by testing SPIKE LR anti-tank guided missile
14.01.2020
U.S. Marine Corps orders more Amphibious Combat Vehicles
11.11.2019
RAVEN Countermeasure System protects vehicles from missile threats
15.10.2019
BAE Systems unveils Robotic Technology Demonstrator Vehicle at AUSA
15.10.2019
BAE Systems Land Systems Hagglunds AB
BAE SYSTEMS Advanced Technology Centre
BAE SYSTEMS Customer Solutions & Support Land & Sea
BAE SYSTEMS Operational Training
BAE SYSTEMS RO Defence Small Arms Ammunition Division
BAE Systems North America, Land & Information Systems
Caiman MRAP (Mine protected carrier)
Caiman Light (Mine protected carrier)
Caiman MTV (Mine protected carrier)
Discuss