Rheinmetall Defence wins order for GUZ expansion
Category: Training And Simulators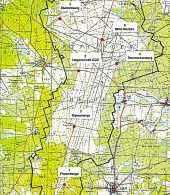 Germany's Federal Office for Defence Technology and Procurement (BWB) has awarded Rheinmetall Defence a contract for a major expansion of the German Army's Combat Training Centre (GUZ) in the Altmark district of Saxony-Anhalt, which has been steadily ramping up operations ever since 2001.
The order encompasses new GUZ system technology for the previously non-instrumented southern part of the Altmark Major Training Area as well as additional mobile online video technology. For Rheinmetall Defence's Simulation and Training Division, the order is worth some EUR25 million.
[Image]Building on a 2006 order for the complete modernization of system technology for the GUZ command & control center and communications network, the new order encompasses expansion of the TETRA wireless data link and tactical voice communications, meaning that exercises conducted in the southern section of the training area can soon be controlled and monitored from the GUZ command & control center. Among other things, new radio relay stations will be erected in the training area and connected to the command & control center by fibre optic cable.
Just as with the modernization of the command & control center, the contract for connecting the southern section was awarded with the proviso that training operations must be able to carry on without interruption. Once the regeneration and expansion work is completed, the German Army will have an enhanced performance, state-of-the-art system at its disposal that will enable highly realistic combat training, ensuring that troops are well prepared for future operations.
Furthermore, Rheinmetall Defence will be supplying two additional video relay vehicles for online recording and documentation of exercises. The new video units will augment the three systems already supplied to the GUZ, and are equipped for the first time with night vision cameras, enabling exercises to be recorded even under conditions of poor visibility. This will make it possible to exploit the full capabilities of the GUZ video system for mobile online transmission, presentation and processing of parallel battlefield videos in the command cell 24 hours a day.
The German Army's Combat Training Centre (GUZ) is on the global cutting edge with regard to operational effectiveness, depth of simulation and ability to deliver a highly realistic training experience. Expanding the GUZ system technology to include the southern section of the training area, coupled with ongoing regeneration of the computer network, will not merely maintain but materially improve the efficiency of this unique facility. The regenerated Combat Training Centre and its southward expansion will give the German Army the world's most advanced system of its kind, now set to encompass the entire Altmark Major Training Area, and making a major contribution to operational readiness.
Rheinmetall
18.03.2008

Share...





Rheinmetall MAN Survivor R special protected vehicle on show at GPEC 2020 international security exhibition in Frankfurt/Main
24.02.2020
Rheinmetall books ˆ110 million-contract to extend the service life of the Marder infantry fighting vehicle for the Bundeswehr
21.01.2020
Rheinmetall to Feature Next Generation 130mm Tank Gun at AUSA Global
04.11.2019
Rheinmetall Presents Next Gen "Wiesel Wingman" solution for Robotic Combat Vehicle – Light at AUSA 2019
04.11.2019
Rheinmetall MAN Military Vehicles GmbH - RMMV
Rheinmetall Verseidag Ballistic Protection GmbH
Rheinmetall Soldier Electronics GmbH
Rheinmetall AG, Representative Office Abu Dhabi
Rheinmetall Waffe Munition GmbH
Rheinmetall Defence Electronics GmbH
Rheinmetall Waffe Munition Arges GmbH
American Rheinmetall Munitions, Inc. - ARM
Rheinmetall Denel Munition (Pty) Ltd - RDM
Discuss