QinetiQ wins contract to deliver pre deployment training to armed forces
Category: Training And Simulators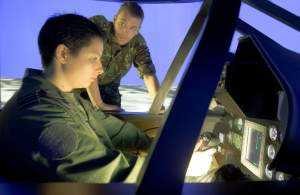 RAF pilots will train alongside British Army forward air controllers and artillery personnel prior to deployment to the front line thanks to a contract just awarded by the MOD that covers the provision and running of a bespoke multi-million pound training facility at RAF Waddington.
The Distributed Synthetic Air Land Training (DSALT) contract is worth £26m over the next four years. Under the contract sponsored by the RAF, QinetiQ as the project lead, and Boeing will together provide around 44 weeks access to specialist synthetic training facilities each year. The primary users will be HQ level fire planning cells and fire support teams, who act as the eyes and ears on the front line for artillery batteries plus the RAF pilots that will be operating alongside them in the region and engaged in ground attack missions. By working together they will safely experience the complexities of controlling aircraft, artillery and other assets, all in fast-moving situations.
"With recent technological advancements we are now able to deliver synthetic training that realistically simulates actual engagement situations and until now troops probably only experienced many of these only when they reached the front line," explained Jon Saltmarsh, QinetiQ's programme director for the project. "This helps ensure our forces are better trained, minimising the risks both to them and civilians in complex urban environments like Iraq and Afghanistan."
"A real benefit of this form of training is that ground forces gain an understanding of the pilot's perspective of a mission and vice versa," he added. "This means that communications between all parties are improved, operations run more smoothly and there's less chance of error."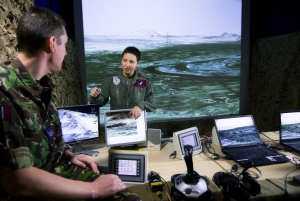 QinetiQ is responsible for ensuring the facility meets technical specification and delivering the ongoing customer requirements. Initially this involves ruggedising a capability demonstrator that has already successfully proven the concept to the MOD into a robust training system. Boeing will be responsible for the day-to-day operation of the training systems used for planning and for delivery of the post-exercise review, while the RAF supported by Inzpire, (acting as consultants to the UK military), will provide personnel with recent in-theatre experience to take on various key roles within the exercises.
"Boeing and QinetiQ continue to develop an appropriate, robust, rugged and reliable training facility that will meet UK forces' needs for integrated land air training now and into the future," concluded George German, DSALT programme manager for Boeing.
The DSALT facility is a key element of the Air Battlespace Training Centre, a partnership between RAF and industry to improve the training of UK frontline forces. The DSALT facility can also be linked to a variety of other simulated or live air, land or maritime assets to further enhance the training. The possibility also exists to develop deployed training facilities elsewhere in the UK or overseas, thereby increasing the value and availability of this specialised training.
QinetiQ
23.05.2009

Share...





BAE Systems Teams with QinetiQ to Pursue Electric Drive on Combat Vehicles
04.06.2017
QNA Partners with Persistent Systems to Integrate MPU5 Radios into Family of UGV
12.01.2017
BAE Systems` Team Challenger® 2 awarded Assessment Phase for Life Extension Project
25.12.2016
QinetiQ Australia starts fatigue testing on Thales's Hawkei vehicle
24.01.2016
Discuss