BAE Systems and Iveco Defence Vehicles Pursue Marine Corps Personnel Carrier
Category: Defence Industry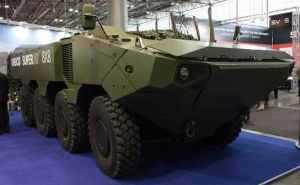 PARIS, France -- BAE Systems and Iveco Defence Vehicles have signed a licensing agreement to form the basis of a business arrangement for the pursuit of the U.S. Marine Corps Personnel Carrier (MPC) programme, with a vehicle based on the SUPERAV 8x8.
In 2009, Iveco Defence Vehicles unveiled the SUPERAV 8x8 as the newest MPC candidate. The SUPERAV has capabilities based on previously fielded vehicles that include enhanced survivability, mobility performance, and amphibious capability with growth potential.
The MPC is designed to fill the medium-armour ground vehicle gap and complements the capabilities of the Expeditionary Fighting Vehicle (EFV) and the Joint Light Tactical Vehicle (JLTV). It will be a flexible and highly mobile asset for the Marines that will be well protected, sustainable, networked and include a strong swimming capability.
Both BAE Systems and Iveco Defence Vehicles have extensive experience across a range of mine-protected and armoured vehicles, including several 8x8 models. This breadth of experience positions the team to jointly address the specific requirements of the MPC programme.
BAE Systems
15.06.2010

Share...





BAE Systems` CV90 increases lethality by testing SPIKE LR anti-tank guided missile
14.01.2020
U.S. Marine Corps orders more Amphibious Combat Vehicles
11.11.2019
RAVEN Countermeasure System protects vehicles from missile threats
15.10.2019
BAE Systems unveils Robotic Technology Demonstrator Vehicle at AUSA
15.10.2019
BAE Systems Land Systems Hagglunds AB
Iveco - Oto Melara Consortium - CIO
IVECO S.p.A., Defence Vehicles Division
BAE SYSTEMS Advanced Technology Centre
BAE SYSTEMS Customer Solutions & Support Land & Sea
BAE SYSTEMS Operational Training
BAE SYSTEMS RO Defence Small Arms Ammunition Division
BAE Systems North America, Land & Information Systems
SuperAV (Wheeled armoured personnel carrier)
Discuss