MillenWorks' New, Rapidly Deployable Battery Management System Optimizes Battery Performance
Category: Exhibitions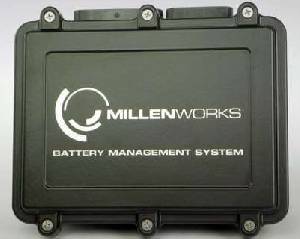 San Diego, CA -- MillenWorks, a strategic business of Textron Marine & Land Systems, an operating unit of Textron Systems, a Textron Inc. company, introduced its new Battery Management System (BMS) at the SAE 2012 Hybrid Vehicle Technologies Symposium in San Diego.
Able to accommodate various Lithium Ion battery chemistries, MillenWorks' BMS can be rapidly deployed to meet customers' specific high voltage energy storage system requirements at the prototype level.
MillenWorks is exhibiting its BMS capabilities at Booth 50 in the Town and Country Resort & Conference Center during the two-day SAE symposium, attended by automotive original equipment manufacturers (OEMs) and energy storage providers.
Ideal for electric vehicles, hybrid electric vehicles, or grid storage systems, the MillenWorks BMS monitors the performance of cells within a battery to achieve optimum performance and life while safely managing and operating the system. This is accomplished by actively integrating multiple data points, including cell voltages, temperature and current, into advanced algorithms that are tailored to cell chemistry and application.
"This system utilizes our decades of systems integration experience in extreme off-road environments to provide a BMS integrated with a robust hardware platform required by today's emerging, mid-size and large vehicle OEMs and battery cell manufacturers," said MillenWorks Director of Commercial OEM Michael Reagan. "As more customers in the United States and internationally pursue integrating electric drive powertrains in their vehicles, MillenWorks is equipped to deliver optimal, scalable solutions for their energy storage needs."
MillenWorks' BMS also is highly customizable to the various profiles of customer cells. The flexible architecture utilizes a master/slave topography that accommodates up to 192 series cells offering a scalable solution for low voltage packs through systems operating in the 700 volt range. The system offers real-time monitoring of key battery parameters such as state of charge, state of health and state of life.
MillenWorks has developed multiple electric drivetrain and energy storage systems for commercial OEMs and defense customers during more than 30 years in business. The company is adept at implementing battery management systems for customers using a myriad of chemistries including lead acid, nickel cadmium, nickel metal hydride, and various lithium ion chemistries.
Sergyi Way
23.02.2012



www.army-guide.com
Share...





Boeing and MillenWorks to Demonstrate Tactical Military Vehicle in Off-Road Event
22.08.2009
Discuss