MTL Group secures further orders for its IMPAS add on armour system
Category: Future Technologies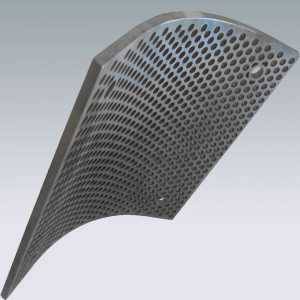 Following a successful exhibition at Eurosatory, Armour plate processing specialist MTL Group has been awarded significant orders for its IMPAS add on armour system. The order for IMPAS will be supplied in kit form for the customer to fit directly onto its vehicle.
IMPAS is a perforated Armour system produced in various formats that gives excellent value for money compared to ceramics and composites, the system boasts an unrivalled multi hit capability and the latest developments allows for the ultra-high hard IMPAS to be formed at various angles to further advance its protection and reduce ballistic weak spots.
Simon Hurst Sales Manager for Defence at MTL Group said:
"Our customer gave us the challenge to design and produce the kits in a very short period of time to a tight weight and cost budget to satisfy an urgent requirement, due to our large scale production facility and flexible work force we was able to assist the customer and completed the project in time."
MTL Group is also experiencing great success with its DFM (Design For Manufacture), many of the key OEMs from around the globe are now consulting MTL Group for assistance at the design stage to help them with design efficiencies and enabling them to produce lighter, stronger and better protected structures. All this is possible due to MTL Groups unique large format processing equipment coupled with its unrivalled experience and understanding of Armoured materials.
One recent project saw an armoured vehicle manufacturer's 8x8 vehicle floor completely redesigned from an original 11 piece fabrication to a 1 piece pressed component. Developments have also been made on forming thick armoured grade aluminium into "V" shaped sections for blast protection applications.
MTL Group
18.09.2012

Share...





Rheinmetall MAN Survivor R special protected vehicle on show at GPEC 2020 international security exhibition in Frankfurt/Main
24.02.2020
MBDA SHOWCASES TANK DESTROYER VEHICLE WITH PGZ AT MSPO 2019
12.09.2019
Problems of Russian Vacuum APFSDS-T projectile
25.01.2019
104 German Leopard 2 MBTs to be modernized
28.09.2017
TenCate Advanced Armour France S.A.S.
TenCate Advanced Armour Danmark A/S
Discuss