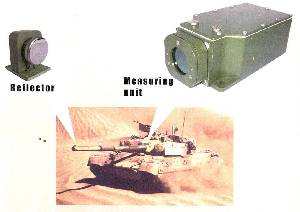 Muzzle reference system components and their placement
The muzzle reference system is an electronic device that is intended to measure the current value of a tank barrel bend in order to take it into account when firing the gun and therefore to improve the accuracy of firing.
The electronic signal proportional to the measured angle value is transmitted into the tank's fire control system that allows to indemnify the firing errors by correction of the relevant aiming angles. The measurement error of an up-to-date muzzle reference system does not usually exceed 0.1 mrad. The system consists of a reflector ("mirror") installed at the gun muzzle end and a measuring unit installed on the barrel near the gun mantlet. All modern main battle tanks are fitted with a muzzle reference system.