Ministry of Defense of Russia demonstrated a new Kungas UGV
Category: Robots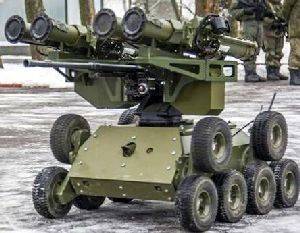 "At the operational-special gathering together with officials of the Main Command of the Ground Forces of the Russian Federation in the Moscow region, the Kungas Combat Unmanned Ground Vehicle (UGV) was demonstrated," the Russian Ministry of Defense reported.
"At the training ground in Alabino, generals and officers got acquainted with modern and future models of weapons, military and special equipment. Participants of the meeting also demonstrated a Kungas multifunctional UGV for solving the problems of providing combat operations to the land forces,"the press release said.
Earlier, the Tractor Plants Concern reported that its subdivision, Special Design Bureau of Machine Building, was developing a Kungas multipurpose UGV to provide combat operations.
In March 2017, Deputy Prime Minister Dmitry Rogozin announced the arrival of UGVs in the Russian army.
"The task is to get our man out of the sector of defeat to a safe distance, but so that he himself sees the enemy and is able to hit him. Our purpose is to turn a serviceman into a robotic system operator capable of performing any combat missions," Rogozin said.
Sergyi Way
22.12.2017



www.army-guide.com
Share...





Kungas Unmanned Ground Vehicle Tested in Russia
11.12.2019
Nerekhta multifunctional UGV on the State tests
05.02.2019
Kungas (Robot, Unmanned Vehicle)
Discuss