Patria Received Additional Vehicle Order from the Croatian Ministry of Defence
Category: Contracts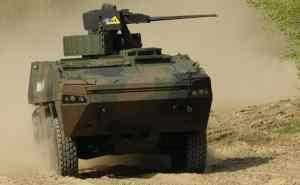 The Croatian Ministry of Defence has on 22 January 2009 informed that they have extended the vehicle deal by additional 42 Patria AMV vehicles for the Croatian Army.
Patria and Duro Dakovic Special Vehicles as consortium partners and the Croatian Ministry of Defence signed the agreement covering 84 Patria AMV 8x8 vehicles including an option for additional vehicles already in October 2007.
Patria AMV 8x8 - with well over 1200 vehicles contracted and several hundreds of them delivered - is the choice of the Polish, Finnish, Slovenian, South African, Croatian and United Arab Emirates' armies.
Patria is a defence and aerospace group with international operations delivering its customers competitive solutions based on own specialist know-how and partnerships. Patria is owned by the State of Finland and the European Aeronautic Defence and Space Company EADS N.V.
Patria
23.01.2009

Share...





Milrem Signs Contract for the Latvian BV206 Maintenance
25.04.2019
Eurosatory 2018: Patria 6X6 - Multifunctional transport capacity far into the future
12.06.2018
BAE Systems and Milrem LCM Sign Maintenance Support Contract for Estonian CV90s
19.04.2018
The Finnish army is testing a new MiSu armored vehicle
15.12.2017
Discuss