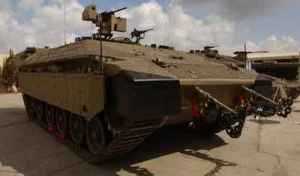 Namer APC
The Ground Forces of Israel are revising the possibility of installing a 30cm cannon on the advanced Armored Personnel Carrier - Namer.
The installment of the cannon will enable the vehicle new abilities, such as breaking through buildings that are used for hiding, and having the ability to aim a shot in a sharp angle. This will enable Infantry Forces to become more independent against their threats, without the help of tanks. The target data will be entered in the cannon automatically, with help of the control and inspection system of the Namer.
Battalion soldiers of the Golani Brigade that are in the midst of finishing their training on the Namer, practice the use of a machine gun. The Ground Forces are considering if they should change the machine gunner in the Namer for a gunner. In order to do that, a series of tests will be conducted which will examine the use of the cannon in the Namer.
The vehicle is capable of carrying up to 12 fighters, amongst them three professionals (the Namer Commander, the driver, and the machine gunner), and nine Infantry fighters. The cannon will be found outside the vehicle, and will not penetrate the inner area of the APC.
"If the cannon will be installed in the Namer, we won't have to use other vehicles for Infantry," explains Major Shlomi Ben Lulu, head of the Namer project in the Infantry Corps. "I wouldn't want the tank to help me against Infantry threats, however tanks will confront tanks, and Infantry will confront Infantry. The cannon will upgrade the Infantry's abilities."
The cannon can turn the Namer to a near perfect vehicle, says Major Ben-Lulu. The reversibility, survivability, the speed, and the mobile abilities – are more advanced than those of the IDF Achzarit, and of other Infantry Armored Personnel Carriers used in the IDF. From the instant the Namer will be part of the battle field, the Infantry and Armored Corps will start to be active together, without having the Armored Corps wait for the Infantry Forces during a battle.
The Namer will enable the Infantry Corps to destroy a threat while remaining in the APC, without having the combat soldiers take out their heads from the vehicle. This is with the help of 360 degree cameras, a control and inspection system, and computerized weapon systems. In addition to that, the control and inspection system in the Namer will enable the Division Commander to be in direct contact, and watch the progress of each class in a direct manner.