PLA armored equipment forms complete system
Category: Defence Industry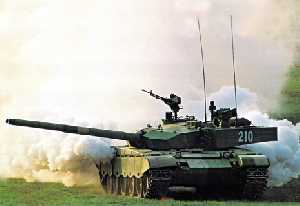 On August 15, the "Stride 2009.Luzhai" military exercise officially kicked off in a division under the Jinan Military Area Command. In light of the preplan, an armored regiment had the combat vehicles loaded onto the military train in an orderly way in less than 40 minutes and the train set off for the predetermined destination on time.
Recently, the reporter learned from the symposium on "Retrospect and Prospect of Armored Equipment over the Past 50 Years" organized by a research institute of the General Armaments Department of the Chinese People's Liberation Army (PLA) that the PLA has established a complete system of armored equipment which can meet the demands of various battlefields. China has been among the most advanced nations in the world in its overall level of armored equipment.
In the military parade in celebration of the 60th anniversary of the founding of the People's Republic of China held in Beijing, 8 armored equipment formations of the third-generation main battle tanks, infantry combat vehicles, amphibious assault vehicles and parachute combat vehicles rumbled through the Tian'anmen Square, displaying the marvelous achievements obtained by the PLA in the development of armored equipment over the past 50 years as reflected in the evolution from copying and modifying imported equipment to independent research and development, from possessing a single-type of equipment to building up a system of armored equipment characterising the compound development of both mechanization and informationization.
In recent years, the PLA has been accelerating the process of compound development of armored equipment in terms of both informationization and mechanization. Advanced electronic information technology is extensively applied in the new-type combat vehicles, which has notably uplifted the overall combat capability of the troops.
In the year of 2009, the advanced armored vehicles took part in some major military actions including the "Stride 2009" military exercise and the "Peace Mission 2009" Sino-Russian joint anti-terrorism military exercise.
PLA Daily
22.01.2010

Share...





Robotic Warfare Systems Will Bring Disruption to the Battlefield, Milrem Robotics' Study Finds
25.04.2019
Serbia intends to buy a batch of Chechen Chaborz military all-terrain vehicles
20.10.2018
Belarus received a new batch of Chinese CS/VN3 armored vehicles
19.01.2018
Supacat wins Queen's Award for International Trade for Outstanding Short Term Growth
09.05.2017
NORINCO - China North Industries Group Corporation - CNGC
China Defence Science and Technology Information Centre
China Precision Machinery Import and Export Corporation (CPMIEC)
China National Electronics Import & Export Corp. (CEIEC)
China North Vehicle Reseach Institute
CHINA TRANCOMM TECHNOLOGIES CO., LTD
Shanghai China Best Industrial Development Co.
China South Industries Group Corporation - CSIGC
China Tiger (Wheeled armoured personnel carrier)
Discuss