Belarus received a new batch of Chinese CS/VN3 armored vehicles
Category: Defence Industry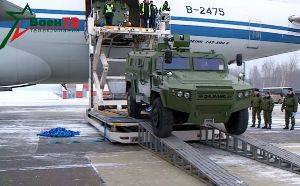 As reported by the VoentTV television channel of the Ministry of Defense of Belarus, on Jan. 18, 2018, a second shipment of Chinese CS/VN3 Dajiang light armored vehicles was delivered to Minsk by a Chinese transport aircraft, which was transferred to the Belarusian armed forces through military assistance from the Ministry of Defense of the China.
The first consignment of five CS/VN3 armored vehicles, delivered by the Chinese, was delivered to Belarus on June 20, 2017. These five vehicles then were tested in the battalion of the 361st Security and Maintenance Base of the Ministry of Defense of Belarus, including participation in the exercises "West-2017". According to unofficial sources, the China plans to transfer 30 of these vehicles to Byelorussia, which received the name "Dragon" in Belarus.
CS/VN3 armored vehicles have been developed and serially produced approximately from 2013 by Chongqing Tiema Industries Group Co. (Plant No. 256) in Chongqing, which is part of the Chinese corporation China North Industries Group Corporation (NORINCO). CS/VN3 vrhicles in different versions are in service with the PLA and the People's Armed Police of the China in relatively small quantities, but Belarus is the first known to their foreign recipient.
Sergyi Way
19.01.2018



www.army-guide.com
Share...





NORINCO - China North Industries Group Corporation - CNGC
Discuss