Patria and Croatian MoD agree on Amendment to Armoured Wheeled Vehicle contract
Category: Defence Industry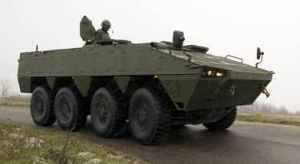 Patria and the Ministry of Defence (MoD) of the Republic of Croatia signed an Amendment related to the manufacturing and delivery contract of 126 Patria AMV 8x8 wheeled armoured vehicles on July 2010.
The negotiations were started on the Croatian MoD's initiative due to the financial reasons.
According to the amendment the number of vehicles remains unchanged and the deliveries will be completed by the end of 2012. The vehicle versions were updated to match the current requirements of the Ministry of Defence.
Majority of the vehicles will be manufactured in Croatia by Patria's local consortium partner Duro Dakovic Special Vehicles (DDSV).The new revised contract also strengthens financial capabilities of DDSV in this program.
In addition to the initial batch of 6 vehicles manufactured in Finland Patria has completed the transfer of technology to DDSV. DDSV has already locally manufactured the first 9 Patria AMV 8x8 basic vehicles.
"Patria is very pleased that the amendment negotiations were concluded in good cooperation and understanding with all parties. This new amendment further strengthens Patria's leading position as the supplier of armoured wheeled vehicles but also opens possibilities for future business opportunities with our Croatian partner", states Mr Seppo Seppälä, President of Patria Land & Armament Oy.
Patria
24.08.2010

Share...





Milrem Signs Contract for the Latvian BV206 Maintenance
25.04.2019
Eurosatory 2018: Patria 6X6 - Multifunctional transport capacity far into the future
12.06.2018
BAE Systems and Milrem LCM Sign Maintenance Support Contract for Estonian CV90s
19.04.2018
The Finnish army is testing a new MiSu armored vehicle
15.12.2017
Discuss