State Company UKRSPECEXPORT represents Ukraine at the International Defence Exhibition and Conference 'IDEX 2011' (Abu Dhabi, UAE) to be held from 20th till 24th February, 2011
Category: Exhibitions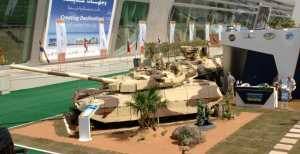 The 10th Anniversary International Defence Exhibition and Conference IDEX 2011, in which Ukrspecexport SC is involved, was opened in Abu Dhabi, UAE, on February 20, 2011.
The Ukrainian exposition, organized by SC UKRSPECEXPORT and under supervision of Dmitry Salamatin, a director general of the State Concern UKROBORONPROM, includes a ready stand and outdoor space. There are dummies of the anti-tank missile systems (ATMS) 'Skif', 'Korsar', 'Baryer-V', of the gun-launched missiles 'Kombat' and 'Stugna' on the stand . Also are exhibited thereon a dummy of the 'Sokil-2' container-launched unmanned aerial vehicle as well as 'ECOtest' radiation control devices, models of BTR-3E1 and BTR-4 armoured personnel carriers, MT-LB armoured personnel carrier-tractor, pistols and rifles manufactured by 'FORT', a state-owned science-industrial association under the Ministry of Internal Affairs of Ukraine.
Tanks "Oplot", T-72B equipped with the 5TDFM engine, armoured personnel carrier BTR4 with the 3TD engine and fighting module "Parus", as well as the infantry fighting vehicle BMP-1Ì with the fighting module "Squall", heavy truck KrAZ 5233ÂÅ are displayed on the outdoor area allocated to Ukraine.
To better become acquainted with production and prospective developments of the military-industrial complex of Ukraine the visitors are provided with comprehensive information and advertising material.
During the first day of the exhibition the Ukrainian exposition was visited by some members of the ruling family of the United Arab Emirates, representatives of the Ministry of Defense of Azerbaijan and the Ministry of Defense of Belarus.
Moreover, apropos of the 10-th anniversary exhibition «IDEX 2011» a reception was held by the State Company UKRSPECEXPORT. The reception was attended by the official delegation of Ukraine headed by Vladimir Omeljanchuk, a deputy Minister of Defense of Ukraine, Jury Polurez, an Extraordinary and Plenipotentiary Ambassador of Ukraine in the United Arab Emirates, the executives of the Ukraine military-industrial complex enterprises, representatives of the armed forces and defense industry enterprises of the United Arab Emirates, members of the official delegation of the Republic of Kazakhstan, representatives of the Belarus Ministry of Defense, of the Kuwait embassy in the United Arab Emirates.
During the first two days' work there were held official meetings and negotiations between the SC UKRSPECEXPORT's management and the members of delegations of the United Arab Emirates, Kuwait, Republic of Azerbaijan, Belarus, representatives of other foreign business community and official establishment. These negotiations and official meetings are expected to result in strengthening Ukraine's defense industry complex positions on the promising market of armaments in the United Arab Emirates.
UKRSPECEXPORT
23.02.2011

Share...





Missile Tank
03.01.2013
The Second Batch of BTR-4 Armoured Personnel Carriers Shipped to Iraq from Odessa Seaport
14.09.2012
Morozov KMDB has handed over the second batch of BTR-4 armored vehicles to Iraqi inspection
06.06.2012
Ukraine holds talks on sale of T-84U Oplot battle tanks to Azerbaijan
18.03.2012
Discuss