Patria participating in HI Design 2012 exhibition in Helsinki
Category: Exhibitions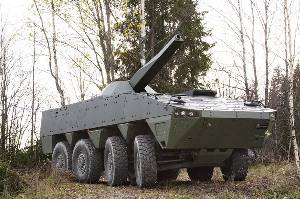 Patria is participating in the HI Design 2012 exhibition. The exhibition involves an unprecedented display of the design work of Finnish companies in Helsinki. It will be open throughout the summer, from 8 June until 2 September 2012. Patria will showcase Patria AMV vehicles, Patria Nemo mortars and composite structured aircraft spoilers.
HI Design 2012 highlights the significant role played by design in the success of Finnish companies. It also reveals some surprising contexts in which design has an impact. Products are being showcased that merge high-end design with technology. The exhibition provides new perspectives on machines and equipment produced by the heavy technology industry.
The exhibition provides a clear picture of the importance of design – it reveals how well-managed design can be used to create durable, functional and attractive products, based on an efficient manufacturing process, no matter the industry. In addition to Patria, several other trailblazing Finnish companies are presenting their products, including Nokia, KONE, Konecranes, Rocla, Planmeca, Planmed, ABB and Link Design.
"Design also plays a significant role in the defence, security and aviation sector, where Patria is a forerunner in various niches. We seek a competitive edge by making use of design to bring safety, ease of use, ergonomics and energy efficiency to our products," says Jukka Holkeri, Patria's Chief Marketing Officer.
Patria AMV – Patria's flagship
Patria is a provider of defence, security and aviation life-cycle support services and technology solutions. From its versatile product and service range, Patria will showcase three different products at the HI Design 2012 exhibition.
One of the largest items on show will be the Patria AMV 8x8, the market leader in modern armoured wheeled vehicles in its class and already an unprecedented success story. The company currently holds contracts for over 1,400 vehicles. A deal concluded in 2010 with the Swedish Defence Materiel Administration promises continued success.
Another Patria item on show will be the Patria Nemo, a 120mm mortar system, which has made Patria a global market leader in turreted mortar systems. Among other features, it has excellent stealth characteristics, ballistic protection and firepower. In addition, it is compact in size and light (approx. 1,700 kg). The mortar is capable not only of conventional indirect, but also of direct fire, which is unique for mortars. It is adaptable to various wheeled and tracked vehicle types, and vessels.
In the aviation business, Patria's key operations include life cycle support services for aircraft and helicopters, as well as pilot training. At the exhibition, Patria will showcase one of its areas of special expertise: composite aircraft structures, represented by a spoiler for the Airbus A380.
Patria also makes complex system and equipment deliveries to defence forces and national security authorities. Areas of special expertise are reconnaissance, surveillance, command and control systems, as well as their integration, software and life-cycle support.
Exhibition is open to the public throughout the summer
The phenomenal HI Design 2012 exhibition will be open to the public throughout the summer, from 8 June until 2 September 2012. Entry is free of charge, and the exhibition will be open to the public from Thursdays to Sundays during the exhibition weeks. The exhibition is organised jointly by World Design Capital Helsinki 2012 and the Federation of Finnish Technology Industries and its member companies.
Patria
10.06.2012

Share...





Milrem Signs Contract for the Latvian BV206 Maintenance
25.04.2019
Eurosatory 2018: Patria 6X6 - Multifunctional transport capacity far into the future
12.06.2018
BAE Systems and Milrem LCM Sign Maintenance Support Contract for Estonian CV90s
19.04.2018
The Finnish army is testing a new MiSu armored vehicle
15.12.2017
Nemo Container (Self-propelled mortar)
Discuss