Textron Receives Order for 71 More MSFVs for the Afghanistan National Army
Category: Defence Industry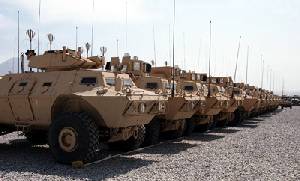 NEW ORLEANS -- Textron Marine & Land Systems, an operating unit of Textron Systems, a Textron Inc. company, announced Jun. 13 that it received a third option award from the U.S. Army Contracting Command, Warren, Mich., for 71 Mobile Strike Force Vehicles (MSFV) for the Afghanistan National Army (ANA).
These vehicles were added to the current contract and have a not-to-exceed value of $79,182,680.
Work will be performed at Textron Marine & Land Systems' facilities in the New Orleans area, with vehicle deliveries scheduled through October 2013. Three variants are being produced: MSFV with enclosed turret; MSFV with objective gunner protection kit; and an MSFV ambulance.
Textron Marine & Land Systems (TM&LS), in May 2011, received an award for full-rate production of 240 MSFVs along with associated support equipment, spare parts, field service representatives, training and training aids. With this new option award, TM&LS is processing orders for 200 vehicles – from three option awards – in addition to the 240 vehicles in the initial full-rate production order. The company also manufactured 18 test MSFVs and 41 low-rate initial production vehicles in 2011, for a total of 499 vehicles ordered to-date.
Mobile Strike Force Vehicles began arriving into Afghanistan in February. Soon after, comprehensive operator new equipment training of a first ANA battalion, called a Kandak, commenced. The first Kandak has completed this phase of training and has begun mounted and dismounted tactics training with NATO forces. With the training and sign over of vehicles to the ANA, the program has achieved Initial Operational Capability (IOC) on schedule.
"In less than two years our dedicated employees, together with the U.S. Army's Product Manager Armored Security Vehicles, have developed, tested, built and started fielding an essential capability for the Afghanistan National Army's security mission," explained Tom Walmsley, TM&LS senior vice president and general manager. "This level of cooperation has enabled our team to quickly and efficiently produce more than 200 MSFVs to date, field the first ANA Kandak, and prepare the next Kandak to train on its fleet of vehicles."
Derived from the combat-proven M1117 Armored Security Vehicle (ASV), all MSFVs are configured with Enhanced Survivability (ES) capability, which improves blast protection to mine-resistant, ambush-protected (MRAP) levels. The ES-equipped vehicles continue to possess the ASV's original, all-important V-shaped hull design, in addition to innovative protection design features that enable them to meet MRAP blast protection standards.
Textron Marine & Land Systems has delivered nearly 3,900 M1117 ASVs and related configurations to the U.S. Army and other military forces including Afghanistan, Iraq, Colombia and Bulgaria. These vehicles have consistently achieved exceptional operational readiness and combat availability rates greater than 90 percent over the life of the U.S. Army program. Textron Marine & Land Systems also has maintained on-time ASV deliveries to the U.S. Army since the ramp up to rate production in 2005.
Textron
14.06.2012

Share...





Textron Systems Announces Plans to Acquire Robotics Innovator Howe & Howe Technologies
04.11.2018
Textron Systems Delivers First TAPV to the Canadian Army
30.08.2016
Textron Systems Awarded Contract to Provide an Additional 55 COMMANDO™ Select Armored Vehicles to Afghan National Army
04.10.2015
CMI Defence to Exhibit New COMMANDO™ Select 90mm Direct Fire Vehicle at Eurosatory
16.06.2014
Textron Systems Maui Operations
M1117 Guardian (Reconnaissance Vehicle)
Discuss