Textron Marine & Land Systems Introduces Two New Vehicles to its COMMANDO™ Family of Vehicles
Category: Exhibitions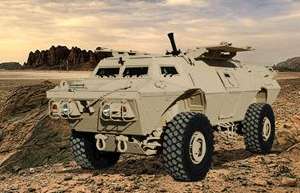 IDEX 2013 – Abu Dhabi – February 17, 2013 -Textron Marine & Land Systems, an operating unit of Textron Systems, a Textron Inc. company, today introduced the addition of two vehicles to its COMMANDOTM family of vehicles at the International Defence Exhibition and Conference (IDEX 2013). The new COMMANDO Select Mortar Vehicle and COMMANDO Utility Baserunner are being shown in Booth 03-B30 during IDEX 2013.
Designed to meet growing requirements of international combat units for a more operationally flexible and adaptable under-armor indirect fire capability, the new COMMANDO Select Mortar Vehicle is capable of firing up to 120mm mortars from a common mount, and stowing up to 82 rounds of high explosive, illumination and smoke rounds. The vehicle is expandable to other fire control systems. The Mortar Vehicle mount also can fire at an azimuth of up to a 360-degrees and a firing elevation of 45 to 85 degrees.
Three other COMMANDO Select variants are currently being produced and fielded for the Afghanistan National Army. Like all vehicles in this line, the Mortar Vehicle exceeds MRAP levels of crew protection and takes advantage of the proven mobility and survivability of TM&LS' COMMANDO family of armored vehicles. COMMANDO Select vehicles are easy to operate and maintain, with readily available parts, training and service support.
TM&LS' new Baserunner 4x4 selectable gas/electric hybrid COMMANDOTM Utility vehicle is built to facilitate missions in forward and rear echelon operational environments. These vehicles perform demanding tasks with ease, allowing users to efficiently and safely complete tasks. In gas mode the Baserunner powers through rough terrain and adverse conditions while electric mode provides quiet vehicle operation.
The COMMANDO Utility vehicle line also includes the Survivable Combat Tactical VehicleTM (SCTV) System, an MRAP-style fully armored monocoque v-hull crew capsule designed to replace the crew compartment of the HMMWV in a one-for-one exchange. The SCTV is offered by Granite Tactical Vehicles Inc. and Textron Marine & Land Systems.
"These vehicles offer current and potential customers the new capabilities they seek," said Tom Walmsley, TM&LS senior vice president and general manager. "A number of international militaries have expressed a need for a Mortar vehicle that combines indirect fire capabilities with outstanding mobility and protection, while others have expressed a desire for a robust and flexible utility vehicle to support military base operations. We're pleased to bring both to market while expanding the range of our COMMANDO vehicle lines."
Rigorously tested and proven in the toughest environments, the COMMANDO family of vehicles offers a range of protection up to and exceeding MRAP level, unmatched on-road/off-road mobility and ample firepower. TM&LS produces four lines of COMMANDO four-wheeled vehicles – COMMANDO Utility, COMMANDO Advanced, COMMANDO Select and COMMANDO Elite.
As an end-to-end armored vehicle provider, TM&LS also offers its customers COMMANDO fielding, training, maintenance and logistics support throughout each vehicle's life cycle.
Textron
18.02.2013

Share...





Textron Systems Announces Plans to Acquire Robotics Innovator Howe & Howe Technologies
04.11.2018
Textron Systems Delivers First TAPV to the Canadian Army
30.08.2016
Textron Systems Awarded Contract to Provide an Additional 55 COMMANDO™ Select Armored Vehicles to Afghan National Army
04.10.2015
Renault Trucks Defense To Exhibit At The SOFINS Show
13.04.2015
Textron Systems Maui Operations
LAV-150 Commando (Reconnaissance Vehicle)
VLRA TDN-TDE Commando (Patrol Vehicle)
COMMANDO Advanced (Reconnaissance Vehicle)
COMMANDO Select (Tactical vehicle)
COMMANDO Elite (Tactical vehicle)
Discuss