AT LR Ground Surveillance Radar
Category: Defence Industry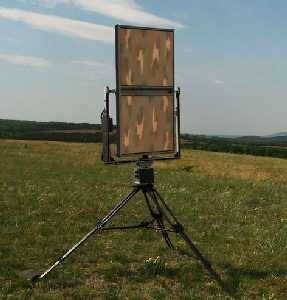 AT LR Ground Surveillance Radar AT Communication is please to announce the expansion of its range of Radar Products with the introduction of the AT LR.
The AT LR is a long-range Ground Surveillance Radar capable of detecting land, sea and aerial moving targets at ranges up to 45 km. The radar provides automatic detection, automatic tracking and classification of the targets.
The AT LR is portable and easily deployed by a light vehicle or on a tripod for man portable applications as well as fixed installations. An Embedded GPS and magnetic compass unit are standard allowing rapid deployment and configuration.
The AT LR is ideal for military and paramilitary organizations for applications such as border protection forces, intrusion detection, protection of military bases, strategic infrastructure sites where ambush/raid is a risk from hostile forces.
The AT LR can be operated either independently or as a part of an integrated network of units via Ethernet or WLAN. The system can easily be configured to integrate with existing systems and sensors in use by customers.
For further information on the AT LR please don't hesitate to contact us or visit this link
http://surveillance-radars.at-communication.com/en/at/at_lr_ground_surveillance_radar.html
for more detailed information.
AT Communication
22.05.2013
at-communication.com
Share...





Otokar offers solutions with technology transfer and local manufacturing models
13.09.2019
Otokar debuts its Light Tank in Paris
19.06.2018
SAAB Receives Order From KMW For Mobile Camouflage Systems
19.12.2017
Otokar to present COBRA II and ARMA 6x6 at GDA 2017
13.12.2017
RADAR mms Research Enterprise JSC
EURO-ART - Advanced Radar Technology GmbH
Discuss