U.S. Marine Corps Awards General Dynamics $19 Million for Expeditionary Fighting Vehicle Long-Lead Materials
Category: Contracts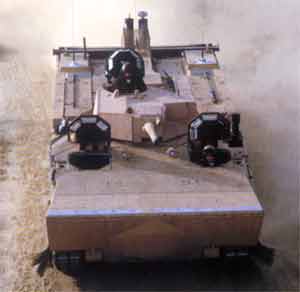 STERLING HEIGHTS, Mich. - The U.S. Marine Corps Systems Command, Quantico, Va., has awarded General Dynamics Land Systems, a business unit of General Dynamics, a $19 million contract for the advanced procurement of long-lead material (LLM) for the Expeditionary Fighting Vehicle (EFV) Low Rate Initial Production (LRIP) Lot 1.
The EFV is the Marine Corps' highest priority expeditionary modernization program. The EFV is an expeditionary vehicle that can launch forces from 20 to 25 nautical miles at sea and transport them to shore at speeds in excess of 20 knots, three times faster than the current platform's speed. The EFV is capable of land speeds up to 45 mph while exhibiting mobility characteristics equal to or greater than the M1A1 Abrams tank.
The EFV's breakthrough expeditionary design provides outstanding cross-country mobility, lethal firepower, high water and land speed, extensive information and communications networking, and optimum crew protection and survivability. EFV provides elements of flexibility and tactical surprise critical to establishing battlefield dominance.
Under this contract, General Dynamics will provide all components, material, parts and technical effort required to procure the long-lead material for the anticipated future contract for EFV LRIP Lot 1. This amounts to 15 Lot 1 vehicles, including 13 EFV-P and 2 EFV-C variants. The EFV-P is the personnel variant and will be the primary infantry mobility vehicle as its three-man crew transports 17 combat-equipped Marines to missions on land and across water. The EFV-C is the command variant, and will be employed as a tactical command post for maneuver unit commanders at the battalion and regimental levels. The EFV-C will host a state-of-the-art command, control, communications, computing and intelligence (C4I) suite to fulfill Marine Corps mission needs during the 2008-2030 timeframe.
Work under this award will be performed in Indiana, Wisconsin, Arizona, Germany, the Netherlands, Florida, Virginia, New York, Alabama, Maryland, Ohio, Canada, California and Michigan and is expected to be complete by October 2006.
The Marine Corps awarded General Dynamics the EFV contract in 1996. The vehicle entered the system development and demonstration phase in 2001. LRIP Lot 1 begins in fiscal year 2007 and is slated to be followed by three additional annual LRIP lots for quantities of 17, 26, and 42 vehicles, respectively. Full-rate production will commence in fiscal year 2011 and continue through 2020, at which point total of 1,013 EFVs will have been produced. The EFV main assembly site will be the Joint Systems Manufacturing Center, Lima, Ohio.
GDLS
06.10.2005

Share...





KONGSBERG Awarded Contract from GDLS Supporting US Army Stryker ECP Program
11.07.2013
GDLS-Canada Awarded $24 M LAV-A2 Contract by USMC
17.01.2013
Fifty-one new Foxhound vehicles for the front line
25.11.2012
BAE Systems gets R900m MRAP upgrade deal
01.02.2011
General Dynamics Land Systems - GDLS
General Dynamics Land Systems - GDLS - Canada
Discuss