TenCate Advanced Armour supplies materials for vehicles Commando Corps
Category: Defence Industry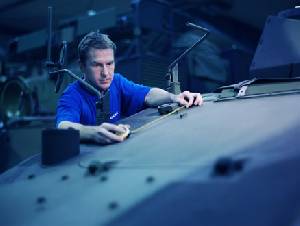 TenCate Advanced Armour supplies antiballistic materials for 50 new vehicles for the Dutch Commando Corps, the so-called Air Transportable Tactical Vehicles. Wednesday, July 3 the Defence Materiel Organization signed a contract with the Dutch company Defenture.
Apart from better road capability, the new Air Transportable Tactical Vehicles (ATTV) have more payload than the current vehicles. This is essential in view of the mandate of the Special Operations Forces. Explorations and attacks on enemy targets may need to be performed deep in enemy territory. At times there are severe geographical and climatic conditions, without logistical support from outside.
Because the Commando Corps can also be dropped by helicopters, the special forces vehicles can be transported in and under Chinook transport helicopters. ATTV vehicles can be equipped with several armor solutions of TenCate Advanced Armour.
TenCate
08.07.2013

Share...





Textron Systems Announces Plans to Acquire Robotics Innovator Howe & Howe Technologies
04.11.2018
Textron Systems Awarded Contract to Provide an Additional 55 COMMANDO™ Select Armored Vehicles to Afghan National Army
04.10.2015
Renault Trucks Defense To Exhibit At The SOFINS Show
13.04.2015
Supacat to deliver 89 Special Operations Vehicles – Commando under $105m contract for JP2097 Ph 1B (REDFIN) Program
30.08.2014
TenCate Advanced Composites bv
TenCate Advanced Armour France S.A.S.
TenCate Advanced Armour Danmark A/S
LAV-150 Commando (Reconnaissance Vehicle)
VLRA TDN-TDE Commando (Patrol Vehicle)
COMMANDO Advanced (Reconnaissance Vehicle)
COMMANDO Select (Tactical vehicle)
COMMANDO Elite (Tactical vehicle)
Discuss