KMDB has manufactured a version of the BTR-4 fitted with additional protection
Category: Defence Industry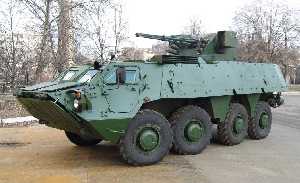 Kharkiv, Ukraine -- The State Enterprise "Kharkiv Morozov Machine Building Design Bureau" (KMDB), which is included in the State Concern "Ukroboronprom", has completed production of a version of the BTR-4 armoured fighting vehicle fitted with additional protection.
The new version of the BTR-4 armoured fighting vehicle enlarges the family of 8x8 armoured vehicles that has already entered series production. KMDB has developed and manufactured a prototype and an add-on armour kit for it. The add-on armour makes it possible to considerably increase the level of protection of the crew and vehicle-borne troops, who are seated inside the BTR-4. This armour can be installed and dismounted by the manpower of the crew under field conditions depending on the planned combat task and the supposed threat.
About the BTR-4 armoured fighting vehicle:
The BTR-4 is an 8x8 amphibious armoured fighting vehicle. The vehicle features a modular design, which enables its basic chassis to be used for development of a family of armoured vehicles. This family comprises an armoured personnel carrier, infantry combat vehicle, command vehicle, command staff vehicle, armoured ambulance, and armoured repair and recovery vehicle. Being able to accommodate various overhead weapon stations and special equipment, the vehicle can be adapted for fulfilment of various combat and auxiliary tasks.
The BTR-4 is in service with the Ukrainian Army. The vehicle is also of great interest for foreign customers.
Sergyi Way
08.03.2014



www.army-guide.com
Share...





Problems of Russian Vacuum APFSDS-T projectile
25.01.2019
Bumar Labedy represents the PT-17 MBT on the MSPO 2017
07.09.2017
Morozov KMDB has handed over the second batch of BTR-4 armored vehicles to Iraqi inspection
06.06.2012
The first batch of BTR-4 APCs is shipped to Iraq
20.04.2011
Kharkiv Morozov Machine Building Design Bureau - KMDB
Discuss