Otokar to present COBRA and ARMA at FIDAE 2014
Category: Exhibitions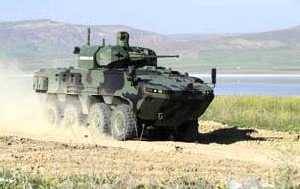 Otokar, the biggest privately owned company of Turkish defence industry, presents its worldwide known armoured tactical vehicles COBRA and ARMA 8x8 at FIDAE 2014 International Air and Space Fair in Chile, between 25th and 30th March.
Chile - Otokar participates in the Chile International Air and Space Fair FIDAE 2014, between 25th and 30th March. At the exhibition, Otokar presents models of its worldwide known armoured vehicles COBRA with KESKIN turret and ARMA with MIZRAK -30 turret in its stand, Hall A, A-20.
Highlighting the success of Otokar in international markets and the aim of opening to new markets General Manager Mr. Serdar Gorguc said: "Otokar is the main land systems supplier of Turkish Armed Forces. We have delivered over 28 thousand military vehicles to nearly 40 different users in around 30 countries."
Otokar tactical armoured vehicles are operating under many different geographical and extreme climate conditions in the world and their combat capabilities are proven in the real combat situations in high risk areas. Today, Otokar military vehicles are globally deployed in various operations under UN and NATO flags.
Otokar provides the modern armies with state-of-the-art tactical vehicles in different configurations through its product spectrum that covers the full range of armoured vehicles from 4 tons up to main battle tanks.
Otokar is also the prime contractor for Turkey's largest land systems programme: Altay Turkish National Main Battle Tank Project. Altay project requires the design, development, production, test and qualification of a platform that will meet the technical and tactical requirements of the Turkish Land Forces Command.
ARMA multi-wheel tactical armoured vehicle family
ARMA 8x8 is a new generation modular multi-wheel armoured vehicle with superior tactical and technical features. Thanks to the modularity and highly protected armoured monocoque hull design, ARMA is a modular platform that forms a basis for 6x6 and 8x8 family of vehicles with a high common logistics. ARMA's basic architecture, allows the integration of various types of mission equipment or weapon systems capable of meeting today's and future needs of the modern armies in the conventional battlefield and peace-keeping operations. ARMA, being an agile and highly manoeuvrable platform, can cross over long distances in a wide range of challenging terrains from deserts to arctic conditions.
ARMA 8x8 carries 12 personnel and has different combat weights of 24,000 kg and 28,000 kg in different configurations. Depending on the customer requirements, ARMA can be equipped with a 450hp or more powerful engines and proven driveline components to perform superior mobility on all terrain conditions. The engine is located at the right front of the vehicle, allowing a comparatively high internal volume to be efficiently and ergonomically used. Water-cooled turbo charged diesel engine capable of running on F-34 or F-54 fuel drives the wheels through an automatic gearbox and transfer box.
The independent suspension system enhanced with Run Flat Tires, built-in Central Tyres Inflation System (CTIS) and Anti-locking Brake System (ABS) improves ground mobility and ride comfort even over the roughest terrain. Vehicle's mobility is further enhanced with longitudinal and transverse differential locks and the high power to weight ratio coupled with high ground clearance and approach/departure angles. Also, ARMA provides amphibious capability by twin hydraulically driven screw-propeller with joystick control.
ARMA provides a high level of protection against ballistic and mine threats by means of high hardness monocoque steel hull. V-shaped monocoque type body structure provides high level of mine blast protection for the crew. Specially designed seats preventing body injuries such as head, neck, spinal cord and pelvis and multi-point seat belt provides safe cruising for the crew.
ARMA family, thanks to its high payload and large internal volume, allows integration of various types of mission equipment and weapon systems. Furthermore, with the outstanding design supporting various types of mission equipment, ARMA can be easily adapted for a wide range of roles and missions such as Personnel Carrier, Infantry Fighting Vehicle, Command and Control Vehicle, Reconnaissance / Surveillance Vehicle, CBRN (Chemical Biological Radiological Nuclear) Reconnaissance Vehicle, Maintenance / Recovery Vehicle and Medical Evacuation Vehicle.
ARMA 8x8 is displayed with the Otokar designed unmanned turret system, MIZRAK-30. It is controlled by a gunner and a commander seated inside the vehicle under armour. Armour piercing, high explosive and all other types of ammunition available for the cannon can be fired. MIZRAK-30 has the latest generation digital fire control system architecture having dual-axes independently stabilized commander and gunner sights.
COBRA
COBRA draws attention with its multi-purpose modular structure and design that successfully meets the requirements of modern armies around the world. The common platform concept helps to simplify the training of drivers and maintenance personnel and optimizes logistic support and planning. Cobra's multi-mission capability is reflected in a range of variants including weapon carrier, reconnaissance vehicle, personnel carrier, ambulance, NBC Reconnaissance, and many more.
COBRA provides superior mobility, a high level of protection, adaptability to various missions and a low logistic footprint.
The powerful turbo diesel V8 engine and high power/weight ratio give COBRA, power to navigate in the toughest terrain conditions. The independent suspension, the Central Tyre Inflation Systems along with the permanent 4x4 drive, automatic transmission and front/rear 2 speed lockable transfer box ensure the highest level of mobility. The optimised body angles of the monocoque hull structure grants COBRA a reliable constitution for the superior protection resulting an excellent level of built in survivability. Prioritizing the concepts of safety and comfort of the crew, COBRA transports up to 9 personnel from one mission to another. Thanks to the optimised angles of the armoured body in monocoque structure, COBRA differentiates itself with remarkable protection against explosives and mines.
Sergyi Way
27.03.2014



www.army-guide.com
Share...





Otokar offers solutions with technology transfer and local manufacturing models
13.09.2019
AKREP II electric armored vehicle presented in Turkey
25.04.2019
Cobra-1600 EOD UGV for the first time entered service brigade of the Russian army
10.08.2018
Otokar Receives $28.9 Million Contract for its Armored Vehicles
31.07.2018
OTOKAR Otobus Karoseri Sanayi A.S.
COBRA (Wheeled armoured personnel carrier)
Cobra-K (Infantry fighting vehicle)
Cobra-S (Infantry fighting vehicle)
COBRA (Control and command vehicle)
COBRA (Reconnaissance Vehicle)
COBRA (Nuclear/biological/chemical reconnaissance vehicle)
COBRA II (Wheeled armoured personnel carrier)
Cobra (Tracked armoured personnel carrier)
Arma 6x6 (Wheeled armoured personnel carrier)
COBRA MK2 (Robot, Unmanned Vehicle)
Cobra (Wheeled armoured personnel carrier)
Cobra (Mine protected carrier)
Cobra (Wheeled armoured personnel carrier)
Arma 8x8 (Wheeled armoured personnel carrier)
COBRA MK2 Ñ (Robot, Unmanned Vehicle)
COBRA MK2 E (Robot, Unmanned Vehicle)
Cobra (Wheeled armoured personnel carrier)
Discuss