Nexter Group awarded VBCI Support in Service contract (MSS)
Category: Contracts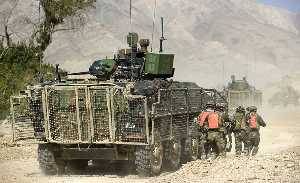 Versailles -- The Nexter Group has today signed the Support in Service contract for the VBCI armored infantry combat vehicle, at a ceremony held in Satory.
The Central Director of the SIMMT (The French ministry of Defence maintenance in operational condition department), General Jean-Yves Dominguez, and the CEO of Nexter Systems, Philippe Burtin, are thus continuing the substantial work already carried out between their teams and ensuring the continued availability of the fleet for the next 10 years.
On August 1, 2014, this market will take the place of an initial contract (Series Logistics), which has demonstrated its effectiveness by successfully supporting operations such as PAMIR in Afghanistan, DAMAN in Lebanon, SERVAL in Mali, as well as the maintenance of the training fleet in Champagne.
With an organization structured around purchase orders, it will enable the Army to regulate financial commitments to meet their needs based on the actual use of the fleet. Technical expertise services will concurrently ensure the continued existence of supply flows.
This contract, which comes in addition to the support contracts for LECLERC and CAESARŪ fleets, confirms the position of Nexter as a major partner of the French Army.
Nexter
07.04.2014

Share...





TEMPORARY COMPANY GROUPING EBMR MEETS ITS DELIVERY OBJECTIVES FOR 2019
14.01.2020
CZECH REPUBLIC SIGNED THE ACQUISITION CONTRACT FOR 62 TITUS
30.07.2019
KMW and Nexter join forces on Main Ground Combat System
21.06.2018
With the TITUSŪ mission orchestration, Nexter asserts its position as a global player in the digitization of the land defense
20.06.2018
VBCI (Wheeled armoured personnel carrier)
VBCI-2 (Wheeled armoured personnel carrier)
Discuss