Otokar Receives ˆ47,5 Million Contract for COBRA II
Category: Contracts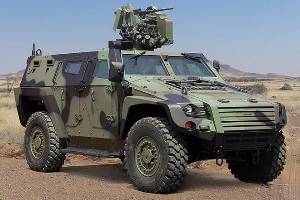 ​Otokar, the biggest privately owned company of Turkish Defence Industry, was awarded 47.5 million Euro contract for COBRA II tactical wheeled armoured vehicle to perform in various missions of Turkish security forces. The delivery of the vehicles will be completed in the first half of 2017.
Turkey's largest land system manufacturer Otokar received a new order for its COBRA II 4x4 tactical wheeled armoured vehicle. 47.5 million Euro amounted contract for COBRA II includes various systems, maintenance and support services except for the vehicles. The delivery of the vehicles will be completed in the first half of 2017. The vehicles will be in service to meet various requirements of the security forces.
COBRA II
COBRA II 4X4 Tactical Wheeled Armoured Vehicle is a modular platform with superior technical and tactical characteristics which is developed over existing COBRA Vehicle. Besides outstanding mobility, COBRA II provides higher ballistic and mine protection, increased payload capacity and internal volume. With its wide range of weapon integration and mission equipment options COBRA II can serve various types of missions including urban and peacekeeping missions with optional amphibious feature. The vehicle provides a remarkable performance in a wide range of challenging terrains and climatic conditions.
Otokar
25.12.2015

Share...





Otokar offers solutions with technology transfer and local manufacturing models
13.09.2019
AKREP II electric armored vehicle presented in Turkey
25.04.2019
Otokar Receives $28.9 Million Contract for its Armored Vehicles
31.07.2018
Otokar debuts its Light Tank in Paris
19.06.2018
OTOKAR Otobus Karoseri Sanayi A.S.
COBRA II (Wheeled armoured personnel carrier)
Discuss