Otokar to introduce TULPAR-S APC at Eurosatory
Category: Exhibitions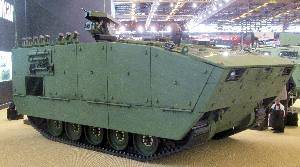 ​​Otokar, the largest privately owned company of Turkish defence industry, participated in Eurosatory 2016 with six different armoured vehicles. Otokar introduced its new tracked armoured vehicle, TULPAR-S APC for the first time at Eurosatory, held in Paris between June 13 and 17. TULPAR-S stands out with its superior mobility, protection and amphibious capability.
Otokar, a Koc Group company and the main land systems supplier of Turkish Armed Forces, participated in Eurosatory with Otokar designed Arma 8x8, Arma 6x6, Cobra II, Cobra and Ural armoured vehicles. Otokar's new tracked armoured vehicle TULPAR-S APC was exhibited for the first time in Paris. Additionally, visitors were informed about Turkey's main battle tank Altay, developed by Otokar as prime contractor.
General Manager Serdar Gorguc said that Otokar is Turkey's most experienced defence industry company in land systems, and continued, "We are Turkey's land systems manufacturer with a wide product range that includes vehicles in various types and versions up to 60 tonnes, ranging from 4x4s and 8x8s to tracked armoured vehicles, as well as Otokar-designed turret systems. Besides being Turkey's largest land systems supplier, we also export to some 30 countries on 5 continents. We analyse the different requirements and expectations of almost 50 clients, and we swiftly create the solutions to meet these needs. As our clients become our references for new orders, we continue to include new countries among our clientele. More than 29 thousand of our vehicles are in active duty in very different geographies and risky zones around the world."
TULPAR-S ARMORED PERSONNEL CARRIER
TULPAR-S is the new member of the new generation light tracked vehicles family of Otokar. TULPAR-S is a 15 tons amphibious tracked vehicle platform, which was first unveiled in the Weapon Carrier Vehicle configuration during IDEF 2015, in Istanbul. It was displayed in Eurosatory 2016 in the Armoured Personnel Carrier configuration.
TULPAR-S is designed as a new generation modern, light and amphibious tracked vehicle platform. It is a multi-role platform to suit many missions where a light, agile, robust, and reliable tracked vehicle with high level of balistic and mine protection is required. The vehicle has a 2 tons growth capacity, which allows integration of additional mission equipment, active/passive protection capabilities, mobile camouflage net, RPG net or different weapon stations.
TULPAR-S is able to operate in the worst environmental and terrain conditions and survive most common threats in the battlefield. It is able to cross deep water obstacles and swim in wavy conditions with its amphibious capabilities. TULPAR-S carries commander, driver and eight fully geared crew members. Access to the vehicle is through a hydraulically operated ramp, with an escape door on it, located at the rear of the vehicle. Driver and Commander can access the vehicle through their hatches on the top deck.
TULPAR-S is a New Generation Light Tracked Vehicle with its modern and up to date Vehicle Electronics architecture, Control Systems, Electronically controlled Power Pack, robust Suspension System, Rubber Tracks, Modular Composite Armour, high level Mine Protection, Survivability systems such as Life Support System (composed of AC and CBRN filtration), Day and Night Sight Systems, Automatic Fire Suppression System, auxiliary systems such as APU and Pre-heating System, user friendly Human Interfaces, large room provided for Crew and Personnel, carefully designed ILS items such as accessibility, maintainability and reliability.
TULPAR-S has modular armour which allows the vehicle to be easily configured for added protection in different protection levels. TULPAR-S balistic protection is supported with mine resistant double layer welded structure, shock absorbing floating floor, mine-blast resistant crew seats and spall liners in the crew cabin.
TULPAR-S has a 360 HP, inline, 6 cylinders diesel engine and 4 forward, 2 reverse gears transmission with torque converter. Also, it can keep mobility performance in wide range of climatic conditions with OTOKAR developed cooling pack. It can cross a vertical step of 800 mm and a trench with a maximum width of 2,6 m. The vehicle is able to negotiate slopes up to 60% and side slopes up to 30%. Suspension system which includes torsion bars with shock absorbers and optional rubber track and steel track with replaceable pads. ​
Exhibited at Eurosatory, TULPAR-S fire power is provided Otokar BASOK RCWS in the Armoured Personnel Carrier configuration. BASOK RCWS, is a stabilized weapon station with 7.62mm machine gun, which is designed for armoured fighting vehicles. The system is utilized with CCD day camera and a thermal camera. System is remotely controlled by the vehicle commander with a multi-functional display, control unit and handle. Turret can also be manually control in case of emergency.
Sergyi Way
02.07.2016



www.army-guide.com
Share...





Otokar offers solutions with technology transfer and local manufacturing models
13.09.2019
AKREP II electric armored vehicle presented in Turkey
25.04.2019
Otokar Receives $28.9 Million Contract for its Armored Vehicles
31.07.2018
Otokar debuts its Light Tank in Paris
19.06.2018
OTOKAR Otobus Karoseri Sanayi A.S.
Tulpar S (Tracked armoured personnel carrier)
Discuss