Cobra II Armoured Vehicles Contract
Category: Contracts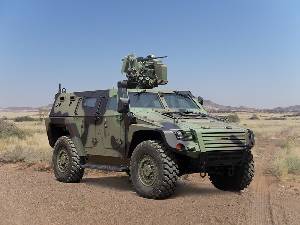 Otokar, the largest privately owned defence industry company in Turkey, has announced that they have received a ˆ106.1 million order for COBRA II tactical wheeled armoured vehicles to be used by domestic security forces in various missions. The vehicles are due to be delivered in the first quarter of 2017.
With superior levels of protection, increased internal volume and outstanding mobility, Cobra II is designed and produced by Otokar, the land defence systems house of Turkey. Otokar has received a new order of armoured vehicles amounting to ˆ106.1 million, and increasing the number of Cobra II in Turkey's inventory. The order includes COBRA II 4x4 tactical wheeled armoured vehicles and a variety of systems as well as maintenance and support systems. Vehicle deliveries are expected to start toward the end of the year and be completed in the first quarter of 2017.
Speaking about the order Otokar General Manager Serdar Gorguc said, "Last year we were awarded the first two orders for Cobra II that we designed at Otokar with our own intellectual property rights and specifically against increasing threats. Armed with our engineering capabilities and R&D strength, we will keep on providing state-of-the-art solutions for our users."
HIGHER PROTECTION AND PAYLOAD
Designed and manufactured by Otokar against upcoming threats and to meet users' demands, COBRA II vehicles offer superior protection and outstanding mobility with increased internal volume. COBRA II is another tactical wheeled armoured vehicle with Otokar-owned intellectual property rights, and has the same mobility features as the COBRA version, providing improved protection against ballistic, mine and IED threats. COBRA II has successfully passed the tests conducted in the terrain and climatic conditions of the region. COBRA IIhas a modular structure for different missions, and is also available in an amphibious version developed specifically for export markets. During recent tests in a Gulf country for hot climate conditions and amphibious properties, Cobra II logged thousands of miles and successfully passed open water wading tests.
Sergyi Way
04.07.2016



www.army-guide.com
Share...





Otokar offers solutions with technology transfer and local manufacturing models
13.09.2019
AKREP II electric armored vehicle presented in Turkey
25.04.2019
Otokar Receives $28.9 Million Contract for its Armored Vehicles
31.07.2018
Otokar debuts its Light Tank in Paris
19.06.2018
OTOKAR Otobus Karoseri Sanayi A.S.
COBRA II (Wheeled armoured personnel carrier)
Discuss