Nexter's 8x8 combat proven reference "VBCI" in the spotlight at the IDEX 2017 trade show
Category: Exhibitions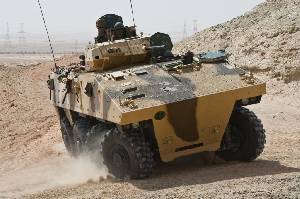 Abu Dhabi -- Nexter, the leading French land defense systems and ammunition designer and manufacturer, is showcasing its mature 8x8 VBCI Infantry Fighting Vehicle from February 19 to 23 on its booth at the IDEX 2017 exhibition.
The VBCI is designed as an 8x8 armored frontline combat vehicle that can deliver an infantry section onto a heavily defended position. As a result of the platform's flexibility, it is also able to perform a full range of missions effectively—from high-intensity combat to peace-keeping. The VBCI provides the perfect balance between protection, fire power and payload.
Over 600 units have been delivered, and the VBCI has earned an enviable reputation as the French Army's principal combat platform during all its recent expeditionary campaigns. From Afghanistan to Mali and Central African Republic, the VBCI's reliability, protection, mobility and crew comfort have stood up to the test posed by the most demanding of operational environments. As part of Operation Serval, the VBCI spearheaded the projection of French Forces into Mali over a distance of 2,400 km in 4 days. It was recently deployed in the UAE during the Gulf Falcon international military exercise led by the French Army.
The VBCI now features key technology evolutions on the VBCI platform currently in service with the French Army, notably in the areas of protection, engine power, payload and supportability.
"The VBCI is today one of the most reliable and mature 8x8 Infantry Fighting Vehicles on the market. It also spearheads Nexter's offering in the Middle East" said Mike Duckworth, Vice President Marketing & Sales. He added "This unrivalled fighting vehicle provides our customers with the ability to dominate the battlefield—not just today but will also do so for decades to come. The combination of the VBCI and the T40 CTA turret with AntiTank Guided Missiles is a real game changer that sets a new pace for the toughest operations".
Nexter
25.02.2017

Share...





TEMPORARY COMPANY GROUPING EBMR MEETS ITS DELIVERY OBJECTIVES FOR 2019
14.01.2020
CZECH REPUBLIC SIGNED THE ACQUISITION CONTRACT FOR 62 TITUS
30.07.2019
KMW and Nexter join forces on Main Ground Combat System
21.06.2018
With the TITUS® mission orchestration, Nexter asserts its position as a global player in the digitization of the land defense
20.06.2018
VBCI (Wheeled armoured personnel carrier)
VBCI-2 (Wheeled armoured personnel carrier)
Discuss