Otokar is now closer to its users in the Gulf Region
Category: Exhibitions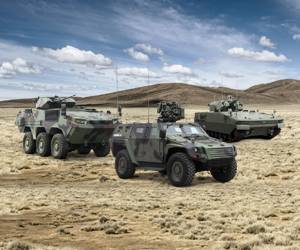 ​Otokar, Turkey's largest private defence industry company, exhibited four vehicles at IDEX 2017, the biggest defence industry exhibition in the Middle East. The vehicles included COBRA II, KAYA II, ARMA 6x6, as well as the new generation tracked armoured vehicle TULPAR-S Personnel Carrier version, which was presented for the first time in the region, on February 19 – 23, 2017 in Abu Dhabi, the capital of the United Arab Emirates.
Serdar Görgüç, Otokar General Manager, stated that Otokar had established "Otokar Land Systems Limited" in the United Arab Emirates in 2016 to strengthen export activities of Otokar, which has left 30 years behind in the defence industry, and added: "Today 30 thousand military vehicles we have developed for different needs are being used on five continents in over 30 countries. Otokar Land Systems will be our driving force in our regional expansion, especially in the Gulf countries."
Otokar has participated in the IDEX 2017 (International Defence Exhibition and Conference) in Abu Dhabi, the capital of the United Arab Emirates with four vehicles. At the largest defence industry exhibition of the Middle East, hosting over one thousand companies in 12 halls spread on 133,000 square meters of area, Otokar exhibited its own design COBRA II, KAYA II, ARMA 6x6, as well as the new generation tracked armoured vehicle TULPAR-S that stands out with its superior mobility and mine protection capabilities. Otokar also shared information about the world's modern main battle tank, ALTAY, with visitors.
"WE WILL BE MORE INFLUENTIAL IN THE REGION WITH OUR NEW COMPANY, OTOKAR LAND SYSTEMS"
Serdar Görgüç, Otokar General Manager, expressed that the IDEX Exhibition is an important organization in terms of increasing cooperation in the region, "IDEX Exhibition which we are participating for the eighth time is especially significant for us. In 2016, we established a new company titled Otokar Land Systems Limited in Masdar City Free Zone in the United Arab Emirates to strengthen our position as one of the world's leading players in the defence industry. Having left 30 years behind in the defence industry, Otokar has nearly 30 thousand military vehicles being used on five continents in more than 30 countries. With Otokar Land Systems, we will be closer to our users in regions where we operate. By following the export activities more closely, we intend to strengthen our cooperation abroad, especially in the Gulf region, open to new markets and increase our sales."
"ARMOURED VEHICLE DELIVERIES CONTINUE"
Serdar Görgüç informed that Otokar, as the biggest supplier of Turkish Armed Forces, continued to increase its armoured vehicle deliveries in 2016 in line with user expectations and against current threats, and added:
"The success of Otokar's armoured vehicles was also a reference for new orders. In 2016, we completed the deliveries of armoured vehicles ordered in 2015 by different countries. Last year, a Gulf country client with URAL armoured vehicles already in its inventory placed a new order for URAL because of the vehicle's successful performance. We will complete these URAL deliveries within this year. On the other hand, we signed the first export contract for COBRA II with a South Asian country. The vehicles are expected to take part in United Nations Peacekeeping operations. As the deliveries continued, user tests of Otokar vehicles in different geographies were conducted throughout the year in our target markets, North Africa and Gulf countries. The testing activities that involved mobility in challenging desert conditions and live firing tests have proved the suitability of our vehicles for the hot climate and geographical conditions."
TECHNOLOGY INVESTMENTS CONTINUE TO GROW
Explaining that Otokar continued to invest in new technologies with increasing demand for armoured vehicles, Serdar Görgüç also noted that a total of 269 patent applications, utility models and industrial design applications, including 37 industrial designs, have been filed for the products and subsystems in the last decade. Görgüç said that Otokar continues with its investments to provide fast and quality response to the demands from the defence industry, "The Otokar R&D centre, one of Europe's leading facilities, is equipped with simulators, testing equipment and the latest information systems to create and evaluate information for the purpose of testing the manufactured vehicles faster and with higher technology. Otokar's test centre featuring a climate controlled test chamber with dynamometer, and electromagnetic compatibility (EMC / EMI) testing qualification, also serves as an independent accreditation centre for defence industry's R&D activities."
In 2016 Otokar was awarded with the internationally recognized accreditation certificate for its mine testing equipment, considered one of the world's most advanced for defence industry products, ballistic laboratories, and ballistic and mine tests, and the IAS (International Accreditation Service) has confirmed the laboratory's compliance with ISO / IEC 17025: 2005 standards.
With the technological infrastructure and experience in defence industry, Otokar, which manufactures with the aim of meeting the requirements of its users, exhibited the following products for 5 days at IDEX 2017:
ARMA: NEW GENERATION MODULAR WHEELED ARMOURED VEHICLE
ARMA, a new generation multi-wheeled modular armoured vehicle with high tactical and technical specifications that Otokar presented at the exhibition, offers superior mobility, high mine and ballistic protection, as well as medium and high calibre weapon system integration options. ARMA also comes in an amphibious version. The ARMA 6x6 stands apart especially with its high battle weight and large internal volume. ARMA can be equipped with different weapons and turret systems for various requirements. The ARMA family can be used for different purposes such as armoured personnel carrier, armoured combat vehicle, command control, and CBRN reconnaissance vehicle. The 8x8 version can be used with various weapon systems ranging from 7.62 mm to 105 mm. Otokar Arma 6x6 is already actively used Gulf. The Arma 6x6 exhibited at the exhibition integrated with Otokar designed Bozok 12.7mm turret system.
COBRA II: EXCELLENT PERFORMANCE IN TOUGHEST MISSIONS
Another vehicle that Otokar presented to users at IDEX 2017 was COBRA II. The vehicle produced against current threats to meet user expectations was added to the Otokar product range in 2013. In addition to superior technical and tactical features, COBRA II also offers high degree of protection and forms a base for a modular platform. With a capacity of carrying nine personnel, as well as high level of protection, firepower and mission equipment, the vehicle is an ideal vehicle for several different missions, and is also available in an amphibious version. The Turkish Armed Forces and security forces actively use COBRA II, which delivers superior performance in the most demanding terrain and climate conditions.
KAYA II MINE-RESISTANT PERSONNEL CARRIER
KAYA II is a mine-resistant personnel carrier, which has been developed particularly for export markets and successfully passed challenging tests in many different regions of the world. Including Gulf. Specially designed against current explosive threats, KAYA II offers superior protection against mines and kinetic energy ammunition. With unique mobility in all kinds of terrain and climate conditions, the vehicle has a capacity of carrying ten crew including commander and driver in a monocoque body consisting of a single cabin.
TULPAR-S: CHALLENGING ALL TERRAIN AND CLIMATE CONDITIONS
TULPAR-S Personnel Carrier, the new member of Otokar's tracked armoured vehicle family, presented for the first time in the region, stands out with its superior mobility, and high ballistic and mine protection. The new generation modern design and flexible electronic architecture sets TULPAR-S apart from its competitors, and the vehicle can be used in various configurations ranging from weapons carriers to personnel carriers. The modular platform allows the vehicle to be produced in different configurations according to the user requirements while the large interior volume, high payload and flexible architecture make it possible to respond to future needs for a light tracked platform. TULPAR-S, which challenges all kinds of terrain and climate conditions, can be used both on land and at sea with its amphibious specifications. TULPAR-S, with its powerful mobility, survivability and firepower, was exhibited at the IDEX 2017 with the Otokar designed BASOK turret.
Otokar also makes a difference with its vehicles ranging from 4x4 to 8x8 and tracked armoured vehicles, and turret systems that are produced in different types and versions. In addition to the products exhibited at the exhibition, Otokar also offers the worldwide known 4x4 armoured tactical vehicle COBRA designed to serve for various missions; the URAL 4x4 tactical wheeled armoured vehicle specially designed for security forces, KAYA and KAYA vehicles in the 4x4 mine protection class, Otokar ISVs produced in the armoured internal security segment, and TULPAR, the heavy tracked armoured combat vehicles.
Otokar is also the main contractor of Turkey's main battle tank, ALTAY. After the successful completion of the design and development tests in the ALTAY project that was launched in 2009, the Acceptance Tests carried out by the Undersecretariat of Defence Industry and the Land Forces Command started. Upon the Undersecretariat for Defence Industry's request, Otokar submitted its final bid for the serial production of 250 Altay battle tanks and their Integrated Logistics Support activities on August 29 in order for serial production to commence as soon as possible.
Otokar
25.02.2017

Share...





Otokar offers solutions with technology transfer and local manufacturing models
13.09.2019
AKREP II electric armored vehicle presented in Turkey
25.04.2019
Otokar Receives $28.9 Million Contract for its Armored Vehicles
31.07.2018
Otokar debuts its Light Tank in Paris
19.06.2018
OTOKAR Otobus Karoseri Sanayi A.S.
Discuss