AxleTech International and Thales announce long-term supply agreement
Category: Defence Industry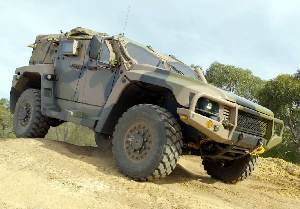 Troy, Michigan -- AxleTech International entered into a long-term supply agreement (LTSA) with Thales to deliver its 3000 Series Independent Suspension Modules (ISM) designed for the Hawkei 4x4 Protected Mobility Vehicle-Light (PMV-L).
The Hawkei represents a new generation of protected vehicles, offering a three-metric ton payload, armored protection, mobility, and transportability. AxleTech's proprietary ISM system is engineered to deliver ultimate cross-country mobility and ride control to meet the vehicle's different mission profiles.
"The Hawkei leverages our expertise in independent suspension systems and we are pleased to continue to work with Thales to support their vehicle platforms," said Bill Gryzenia, Chief Executive Officer at AxleTech.
The program demonstrates the continuation of a long-standing partnership between AxleTech and Thales. The companies previously joined forces on the production of the Thales Bushmaster Protected Mobility Vehicle (PMV). The Bushmaster is equipped with AxleTech's proven Independent Suspension Axle Systems (ISAS®) and the combat vehicle has been successfully deployed by three armies around the world.
The LTSA corresponds to Thales' contract with the Australian Defence Force to produce 1,100 vehicles for the Project LAND 121 Phase 4 program. Vehicle deliveries to the Australian Defence Force will be completed in 2021. AxleTech manufactures the Hawkei ISM products at its facility in Saint-Etienne, France. The company will also provide integrated logistics support beyond the vehicle production period.
AxleTech
25.07.2017

Share...





TEMPORARY COMPANY GROUPING EBMR MEETS ITS DELIVERY OBJECTIVES FOR 2019
14.01.2020
Rheinmetall Presents Next Gen "Wiesel Wingman" solution for Robotic Combat Vehicle – Light at AUSA 2019
04.11.2019
THALES AUSTRALIA AND GENERAL DYNAMICS ORDNANCE AND TACTICAL SYSTEMS DELIVERING FOR THE ADF
12.06.2019
Axletech Reveals Electric Independent Suspension Concept Aa Eurosatory 2018
19.06.2018
Thales Raytheon Systems France
Thales Optronics (Taunton) Ltd
Thales Training & Simulation (USA)
Discuss