Otokar participated in Expodefensa 2017
Category: Exhibitions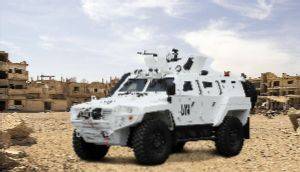 Otokar, Turkey's leading land systems manufacturer and leading supplier of the Turkish Military and Security Forces for wheeled tactical vehicles, participated in Expodefensa 2017, which is held on December 4-6, 2017 at Corferias Exhibition Center, in Bogota, Colombia.
Highlighting Otokar's success at global markets, General Manager Serdar Görgüç stated, "Our strength in the defence industry is driven by our experience, engineering and R&D capabilities, and successful use of technology. Today over 30,000 Otokar military vehicles are in service in many different parts of the world with an outstanding performance. Our military vehicles serve almost 50 different end users in over 30 countries."
Mentioning Otokar's presence in Latin America, Görgüç continued: "Otokar vehicles are currently in service in different parts of Latin America region. With the aim of increasing our presence in Latin America mainly in Colombia, Expodefensa is an important opportunity for us to meet our existing users as well as potential users. We believe that our vehicles serving in conflict areas in Latin America will be the most important reference for our potential users. We will use our unique experience in response to the unique needs of the Latin American market."
Otokar
09.12.2017

Share...





Otokar offers solutions with technology transfer and local manufacturing models
13.09.2019
AKREP II electric armored vehicle presented in Turkey
25.04.2019
Cobra-1600 EOD UGV for the first time entered service brigade of the Russian army
10.08.2018
Otokar Receives $28.9 Million Contract for its Armored Vehicles
31.07.2018
OTOKAR Otobus Karoseri Sanayi A.S.
COBRA (Wheeled armoured personnel carrier)
Cobra-K (Infantry fighting vehicle)
Cobra-S (Infantry fighting vehicle)
COBRA (Control and command vehicle)
COBRA (Reconnaissance Vehicle)
COBRA (Nuclear/biological/chemical reconnaissance vehicle)
COBRA II (Wheeled armoured personnel carrier)
Cobra (Tracked armoured personnel carrier)
COBRA MK2 (Robot, Unmanned Vehicle)
Cobra (Wheeled armoured personnel carrier)
Cobra (Mine protected carrier)
Cobra (Wheeled armoured personnel carrier)
COBRA MK2 Ñ (Robot, Unmanned Vehicle)
COBRA MK2 E (Robot, Unmanned Vehicle)
Cobra (Wheeled armoured personnel carrier)
Discuss