ORCWS 25-30 Unmanned Turret System Completes Field Trials
Category: Defence Industry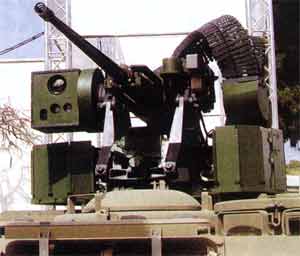 Haifa, Israel: Elbit Systems has reported that its Overhead Remote Control Weapon Systems ORCWS 25-30 has successfully completed a series of firing tests. The ORCWS 25-30 is a fully stabilized, dual-axis overhead unmanned turret system with 25 or 30 mm automatic cannons.
The first firing test series was of an ORCWS-25 system, which consists of a 25mm cannon installed on an M-113 armored personnel carrier (APC) platform. During the test series, the ORCWS 25 system's integration with the APC platform was performed and demonstrated, as well as live firing at an Israel Defense Forces (IDF) firing range.
A second firing test series was held in Switzerland in cooperation with the Swiss company Mowag, a leading manufacturer of wheeled platforms. As part of this test series an ORCWS system with a 30mm cannon was installed on a Piranha IV armored wheeled vehicle.
The tests in Switzerland included a demonstration of the ORCWS 30 system on the wheeled platform facing different levels of obstacles, stabilization tests, live firing to varying distances and shooting dozens of rounds in a formal firing range of the Swiss company Oerlikon.
The ORCWS 25-30 systems include proprietary technology covered by Israeli and international patent applications. They represent a true step function in response to the asymmetric warfare challenges posed by the urban landscape.
The unique design is based on extensive battlefield experience in full scale and low intensity conflicts and attests to the Elbit Systems Group's leadership in the field of Turret and Fire Control systems on all IDF battle tanks, including the Merkava.
The ORCW 25-30 is a dual-axis stabilized system (cannon and sight) with 25 or 30 mm cannons, capable of carrying two anti-tank missiles. All weapon functions are remotely and electrically operated from within the crew compartment using Commander and Gunner handles and color-display monitor, which enables performing all shooting operations of the cannon, machine-gun and missiles.
The ORCWS 25-30 is a light weight, low profile Unmanned Turret, installed and integrated with no deck penetration on wheeled and tracked vehicles, enabling firing on the move, marine operation and C-130 air transportability.
Elbit Systems Ltd.
22.12.2005

Share...





General Dynamics European Land Systems presents a new variant of PIRANHA IFV at the HEMUS Exhibition 2018
04.06.2018
Elbit Systems of Australia Concludes Successful Delivery of Thermal Weapon Sights to ADF
14.05.2018
Australian Minister for Defence Industry Publicly Announced Elbit Systemsí Award of Additional BMS for the ADF
28.11.2017
Rheinmetall selects Queensland for Military Vehicle Centre of Excellence
15.07.2017
MERKAVA Mk-3 (Main battle tank)
MERKAVA Mk-2 (Main battle tank)
MERKAVA Mk-4 (Main battle tank)
MERKAVA Mk-1 (Main battle tank)
ILWS / ORCWS 7.62 (Remote controlled weapon station)
UT 25 / ORCWS 25 (Remote controlled weapon station)
UT 30 / ORCWS 30 (Remote controlled weapon station)
Merkava ARV / NAMER (Repair and recovery vehicle)
MERKAVA Mk-4 BAZ (Main battle tank)
MERKAVA Mk-4 LIC (Main battle tank)
MERKAVA Mk-4M (Main battle tank)
ORCWS-M (Remote controlled weapon station)
Discuss