ATK Receives More Than $45M in New Medium-caliber Ammunition Business
Category: Contracts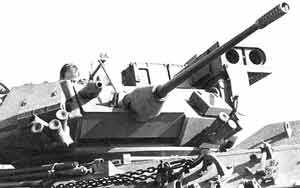 Minneapolis, October 6, 2006 -- Alliant Techsystems (NYSE: ATK), the nation's leading supplier of medium-caliber training and tactical ammunition, has received two contracts, totaling more than $45 million, to supply 30mm PGU-15 Training Practice and 25mm M792 High Explosive Incendiary rounds to the U.S. Joint Munitions Command and the U.S. Army Tank, Automotive and Armament Command, respectively. If additional options are exercised, the total value of the two contracts could approach $60 million.
"Recent contract wins confirm that our decisions to relocate projectile and fuze manufacturing into a new, modern production facility, and to organizationally realign medium-caliber ammunition and medium-caliber chain guns under a single management structure were the right choices for our customer," said Mark DeYoung, President ATK Ammunition Systems. "Our customers now have a single point of contact to work with for all their medium-caliber ammunition needs. This direct interface creates a closer, more customer-focused relationship and offers the customer the best value in the industry."
U.S. Air Force A-10 squadrons will use 30mm PGU-15 ammunition to develop and maintain essential air-to-ground combat skills. The round's ballistic flight profile is identical to the High Explosive round used in a tactical configuration. The ballistic match allows pilots to use non-exploding training ammunition yet train in a realistic combat environment.
The 25mm M792 round is the primary medium-caliber round U.S. forces use to defeat light-armored vehicles, helicopters, additional crew-served weapons and other strategic targets. It is fired from the M242 Bushmaster Chain Gun, manufactured at ATK's facilities in Mesa, Arizona.
Alliant Techsystems
06.10.2006

Share...





CMI Defence presents the Cockerill CPWS 20-25-30
19.06.2014
Textron Systems` Light Armaments Team to Develop Lightweight, Cased-Telescoped Small Arms for U.S. Army
14.05.2014
ATK Awarded $12.6 Million in New Medium Caliber Cannon Orders
08.09.2011
ATK Drives International Expansion with $13.4 Million in New 25mm Tactical Ammunition Contracts from U.S. Allies
02.05.2011
Alliant Techsystems Inc. - ATK
Discuss