Patria AMV 8x8 vehicle agreement signed with the Croatian Ministry of Defence
Category: Contracts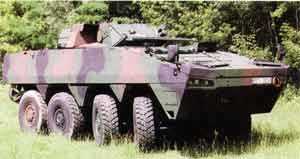 Patria and Duro Dakovic Special Vehicles as Consortium partners and the Croatian Ministry of Defence have today signed an agreement covering 84 Patria AMV 8x8 vehicles to the Croatian Army.
The vehicles will be manufactured in Finland and Croatia. The value of the agreement is approximately EUR 112 million. Deliveries are scheduled to start before the end of 2008 and all deliveries to be completed by the end of 2012.
Mr Jorma Wiitakorpi, CEO and President of Patria stated: "We note with great satisfaction that our AMV vehicle has taken another important step towards becoming the preferred choice of the armies of the region. The newest 4th generation Patria AMVs have already shown in real-life crisis management missions that they honour the promises: excellent protection and performance. Through the offset included Patria offers potential to the Croatian economy as a whole. The vehicles will be produced through direct participation of local cooperation partners."
Mr Bartol Jerkovic, President of Duro Dakovic Special Vehicles (DDSV) said: "DDSV's experience and know-how in main battle tank (MBT) production and modernisation has been recognised by the Croatian Government and our strategic partner Patria as a good basis for establishing of Croatian competence centre for AMV 8x8 vehicle production. Using Patria Technology Transfer, the vehicles will be manufactured by the Consortium DDSV-Patria. Additionally, DDSV will be responsible for specific mission equipment production and final integration as well as after-sales activities."
Patria is a defence and aerospace group with international operations delivering its customers competitive solutions based on own specialist know-how and partnerships. Patria is owned by the State of Finland and the European Aeronautic Defence and Space Company EADS N.V.
Patria Vehicles Oy
12.10.2007

Share...





BAE Systems and Milrem LCM Sign Maintenance Support Contract for Estonian CV90s
19.04.2018
The Finnish army is testing a new MiSu armored vehicle
15.12.2017
LAND 400 package for AME Systems
18.11.2017
Patria delivers a new version of AMVXP to Slovakia as a part of a joint Slovak-Finnish 8x8 vehicle development programme
17.11.2017
Discuss