Head of SOE KMDB spoke about execution of contract for supply of BTR-4
Category: Contracts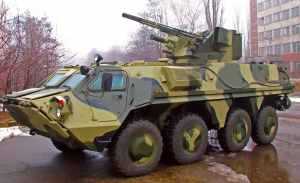 General Designer of the SOE KMDB Lt Gen Mykhailo Borysiuk spoke at the business meeting on issues of development of Kharkiv region with participation of the First Vice Prime minister of Ukraine, where he spoke about the execution of the contract for supply of armored personnel carriers BTR-4 for Iraqi army.
At the end of August 2009 SFTF "Progress" and Ministry of Defense of Iraq signed the contract for supply of the armored personnel carriers from Ukraine to Iraq. The contract envisages supply of 420 armored personnel carriers BTR-4 and vehicles on its base for an overall amount of $457 million with 20% advance with further payment of 70% of each batch and 10% of final payment of each batch.
The main contractor for the contract is the SOE KMDB that is simultaneously a designer and manufacturer of BTR-4.
As per the contract the following vehicles will be supplied between November 2010 and March 2012 in five batches:
commander's APCs – 80 pcs
command post vehicles – 30 pcs
medical vehicles – 30 pcs,
recovery vehicles – 10 pcs
group sets of SPTA and consumable items – 10 sets
breakdown vehicles – 10 pcs
integrated crew training simulators – 10 pcs
The contract cost also includes training of 90 persons of the customer crews for 2 months in Ukraine.
For execution of contractual obligations SOE KMDB, received $72,209 million or 577,758 million hrn at the NBU exchange rate for the date of receipt of the funds, which makes 20% of the total contract cost, less all deductions stipulated by the Commission agreement provisions.
At present the first production prototype of BTR-4, which passed the initial tests, has been made. The first trials revealed extensive noisiness and power pack vibrations. Certain measures have been envisaged to remove these drawbacks.
Preparation for production of the first batch is nearing its completion. Agreements with almost all contractors have been concluded.
With the purpose of reduction of cost, SOE KMDB designed and SE CDB "Proton" (Kharkiv), FKOZ (Feodosia) as well as RUE DB "Display" (Belorussia), which supplies liquid-crystal monitors, mastered production of the fire control equipment. Panoramic systems may have to be arranged from abroad by foreign suppliers.
On behalf of the state the First Vice Prime minister promised to render assistance to SOE KMDB in execution of this contract.
Sergyi Way
11.06.2010



www.army-guide.com
Share...





Problems of Russian Vacuum APFSDS-T projectile
25.01.2019
Bumar Labedy represents the PT-17 MBT on the MSPO 2017
07.09.2017
KMDB has manufactured a version of the BTR-4 fitted with additional protection
08.03.2014
Representatives of the Iraqi Ministry of Defence Have Accepted Another Batch of BTR-4 Armoured Personnel Carriers
08.02.2013
Kharkiv Morozov Machine Building Design Bureau - KMDB
Discuss