Otokar Launches Arma 6x6 Armoured Vehicle at Eurosatory 2010
Category: Defence Industry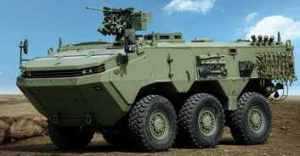 Otokar, the leader armoured tactical vehicle designer and manufacturer of Turkish Defence Industry, unviels its new ARMA 6x6 tactical wheeled armoured vehicle at Eurosatory.
Otokar also displays its worldwide known armoured vehicle "COBRA" and its mine protected armoured "KAYA" vehicle at the show in Paris, France, between 14th and 18th June.
The ARMA is the latest product of Otokar's design and development studies and a proof of Otokar's ability to leverage its engineering, manufacturing and expertise across a large portfolio of armoured tactical vehicles. ARMA is a new product family within the Otokar's the tactical wheeled armoured vehicle range with modular multi-wheel configuration. ARMA vehicle platform with superior tactical and technical features will be an outstanding and cost effective product among competitive products. Thanks to the high level of ballistic and mine protection as well as, the outstanding design allowing the integration of various types of weapon stations and mission equipments, ARMA will be an adaptable platform for evolving mission needs in a modern battlefield.
The 6.4 m long, 2.7 m wide and 2.2 m high ARMA has an 18,500 kg combat weight and a payload of 4,500 kg and carries a driver, commander and eight dismounts in its fully NBC protected hull. The vehicle is C-130 air transportable in standard configuration.
ARMA's front two axles are steerable enabling it to make a turning radius of 7.85 m and the vehicle rides on independent hydropneumatic suspension, offering respectable off-road mobility and comfort. Tyre run flat capability and Central inflation system is supplied as standard. It can negotiate a 45-degree approach and departure angles leading onto 60 per cent inclines and 30 per cent side-slopes. It can also cross 1.2 m wide trenches and climb over 60 cm obstacles.
A 450 hp water-cooled turbo diesel capable of running on F-34 or F-54 fuel drives the wheels through an automatic gearbox and single-speed transfer box, giving it a top speed of 105 km/h and a power/weight ratio of 24.3 hp/tonne.
This also powers the onboard 24 V DC electrical system, which incorporates two maintenance-free 125 Ah batteries and a 3.3 kW converter.
The engine is located at the right front of the vehicle, allowing a comparably high internal volume to be efficiently and ergonomically used. With this internal layout, all the personnel especially the commander can keep eye contact continuously among each other.
ARMA can be driven in 6x6 or 6x4 modes depending upon the terrain conditions. The vehicle is amphibious and driven by 2 hyraulically driven propellors in water allowing a high seagoing performance with a pivot turn capability. ARMA's ballistic and anti-mine protection is provided by high hardness monocoque steel hull and all personnel is seated on anti- mine seats .
ARMA vehicle's development started in 2007 as a company funded development project for home and export markets. Development studies from concept design till the end of test phases including qualification and validation processes, detailed design, computer aided engineering studies, are performed by Otokar.
ARMA 6x6 is ready for full scale production and the family will be complemented by an 8x8 version late in 2010.
4x4 ARMOURED VEHICLES
The vehicles on display at Otokar booth, Hall 6, G351, highlight Otokar's expertise and capability in armoured vehicle design, engineering and manufacturing. Otokar's products are widely known with their effectiveness through better mobility, higher protection as well as being affordable and capable solutions to meet the demands of modern warfare.
Other highlights of Otokar's presence at Eurosatory 2010 include: COBRA : Otokar's worldwide known armoured vehicle COBRA is exhibited with remote controlled weapon station at Eurosatory. The demand to Otokar's 4x4 COBRA had increased in recent years. The COBRA is in duty in various countries including the European countries. The 4x4 COBRA armoured vehicle provides superior mobility, a high level of protection, adaptability to various missions and a low logistic footprint. KAYA: Otokar showcases KAYA mine Resistant Troop Carrier at Eurosatory 2010. Kaya is designed to provide not only superior mine and ballistic protection but also high levels of cross country capability. KAYA provides mine and ballistic protection for the troops on all terrain conditions, while offering high mobility, ease of handling and outstanding crew comfort. Otokar's know-how and experience in mine protected vehicles gained with the COBRA, played an important role in the design and development process of the KAYA. In order to provide excellent cross country capabilities, the KAYA was developed on the Daimler Chrysler Unimog 5000 running chassis. Armored Cab and Crew Compartment are designed as two separate units to utilize and maintain the Unimog 5000's ultimate cross country capability. KAYA 4x4 mine resistant vehicle with its flexible body configuration can easily be configured for different missions along with varying user needs.
Otokar
15.06.2010

Share...





Otokar offers solutions with technology transfer and local manufacturing models
13.09.2019
AKREP II electric armored vehicle presented in Turkey
25.04.2019
Otokar Receives $28.9 Million Contract for its Armored Vehicles
31.07.2018
Otokar debuts its Light Tank in Paris
19.06.2018
OTOKAR Otobus Karoseri Sanayi A.S.
Arma 6x6 (Wheeled armoured personnel carrier)
Arma 8x8 (Wheeled armoured personnel carrier)
Discuss