Three Holes-In-One For Denel Develored Artillery
Category: Future Technologies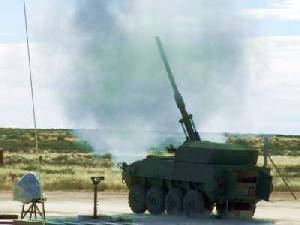 Denel Land Systems has developed an artillery piece that can directly fire three shells through the same hole – at a distance of one kilometre.
The accuracy of this locally developed piece of artillery is equally impressive. This system fire at a range of 30km and deliver 50% of its projectiles within the size of a soccer field.
This remarkable degree of accuracy was achieved when the latest version of DLS's 105mm Stryker was recently tested at the Alkantpan testing range in the Northern Cape. The Stryker LAV III LSPH (Light Self-propelled Howitzer) differs from previous versions in that it can now be serviced by a crew rather than being remotely fired.
Stephan Burger the CEO of Denel Land Systems (DLS) says the firing tests were witnessed by members of the SA Defence community. The tests underline the world-class characteristics of the gun and the quality of the engineering team responsible for its development, says Burger.
The 105-mm Stryker is a joint project between DLS, General Dynamic Systems and Rheinmetall Denel Munitions – another subsidiary of Denel, South Africa's largest manufacturer of defence products.
Research and Development work on the system started in the 1990's when a Denel/Armscor project team was set the task to produce 155mm, 39 calibre Artillery range, accuracy and lethality from a 105mm system. The end product was an artillery piece with the weight of a 105mm howitzer, but the range and terminal performance of a 155mm System -- with better precision.
The latest version tested at Alkantpan has a crew of three - a driver, commander/gunner and loader. Because the system fires off its wheels it can be quickly deployed in action. The system weighs 18,200 kg with 36 rounds on board and is air-transportable with a C130 aircraft.
Burger says the range of the artillery is between 6 and 30 kilometres – depending on the configuration of the projectile and propellant charge.
Its accuracy is exceptional. During the firings error margins of less than 0,3% of range was consistently achieved at maximum range. This kind of performance was made possible through the system engineering approach that was followed in developing the gun, the charges and the projectiles as an integrated system.
Burger says the system has generated significant international interest since it was first unveiled at the African Aerospace and Defence Exhibition in 2000. The turreted version of the 105mm System will also be able to fire off the Patria AMV vehicle, currently the platform for the South African Badger family of Infantry Combat Vehicles.
Denel
09.08.2011

Share...





General Dynamics Land Systems–UK showcases adaptable Foxhound vehicle at DSEI 2019
23.09.2019
General Dynamics Receives Contract to Upgrade U.S. Army Strykers to A1 Configuration
28.06.2018
General Dynamics Land Systems–UK Showcases EAGLE Platform Ahead of MRV-P Programme Trials
14.09.2017
General Dynamics Land Systems–UK showcases PIRANHA 5 at DSEI
14.09.2017
LIW, a division of Denel (Pty) Ltd
Kentron (division of Denel (Pty) Ltd)
Somchem Division of Denel (Pty) Ltd
Swartklip - a division of Denel
Pretoria Metal Pressings a Division of Denel (Pty) Ltd. - PMP
Rheinmetall Denel Munition (Pty) Ltd - RDM
STRYKER ICV (Wheeled armoured personnel carrier)
STRYKER M1129 MC (Mortar vehicle)
Stryker ICV (Wheeled armoured personnel carrier)
STRYKER (Self-propelled howitzer)
STRYKER IFV M1126 (Infantry fighting vehicle)
STRYKER M1127 RV (Wheeled armoured personnel carrier)
STRYKER M1130 CV (Command vehicle)
STRYKER M1132 ECV (Engineer vehicle)
STRYKER M1133 (Ambulance vehicle)
STRYKER M1134 (Self-propelled antitank guided missile system)
STRYKER M1135 NBCRV (Nuclear/biological/chemical reconnaissance vehicle)
STRYKER M1132 (Mine clearing vehicle)
STRYKER XM1128 MGS (Fire support vehicle)
STRYKER XM1134 (Self-propelled antitank guided missile system)
STRYKER M1131 FSV (Fire support vehicle)
STRYKER M1133 MEV (Ambulance vehicle)
ŐĚ1296 Stryker ICV Dragoon (Modernization of the vehicle)
Discuss