China develops second generation explosive-removing robot
Category: Robots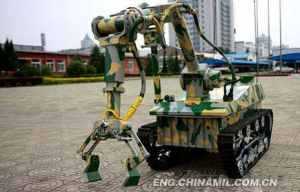 The reporters learned from China Aerospace Science and Industry Corporation (CASIC) on June 1 that the second generation explosive-removing robot "Snow Leopard 10" independently developed by the CASIC with leading level technologies in some aspects in China had entered the testing and experimental stage and would appear at the Zhuhai Air Show 2010 in south China`s Guangdong Province.
The "Snow Leopard 10" robot has such prominent features as portability, flexibility and availability in a wide range of fields. It possesses certain self-action capability and running capability on bumpy surfaces, which can enable it to cross complex topography. It can operate not only on urban streets and in lanes and corridors, but on prairies and Gobi. It can also climb slopes and go upstairs and downstairs.
As most explosive-removing tasks are to grab, grasp and snatch up the heavy objects on the ground, the designers provided the mechanical hand of the second-generation explosive-removing robot with not only multiple flexibility degrees but enough clamping strength by adopting multi-functional mechanism to ensure the safety and reliability of the robot.
The mechanical hand of the "Snow Leopard 10" robot can also be replaced at any time according to actual needs. It can firmly snatch up all kinds of objects ranging from cell phone to 10-kilo iron block and then carry the objects to the designated positions according to orders.
PLA Daily
03.06.2010

Share...





Robotic Warfare Systems Will Bring Disruption to the Battlefield, Milrem Robotics' Study Finds
25.04.2019
Serbia intends to buy a batch of Chechen Chaborz military all-terrain vehicles
20.10.2018
Kazakhstan Paramount Engineering's 8x8 combat vehicle nearing service entry
14.03.2018
Belarus received a new batch of Chinese CS/VN3 armored vehicles
19.01.2018
NORINCO - China North Industries Group Corporation - CNGC
China Defence Science and Technology Information Centre
China Precision Machinery Import and Export Corporation (CPMIEC)
China National Electronics Import & Export Corp. (CEIEC)
China North Vehicle Reseach Institute
CHINA TRANCOMM TECHNOLOGIES CO., LTD
Shanghai China Best Industrial Development Co.
China South Industries Group Corporation - CSIGC
China Tiger (Wheeled armoured personnel carrier)
Discuss