Sagem unveils Sigma 30-700, latest version of the Sigma 30 artillery navigation and pointing system
Category: Defence Industry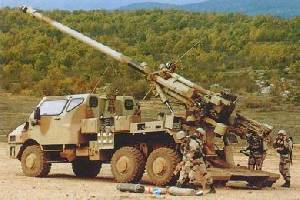 Sagem (Safran group) has introduced the latest version of the well-known Sigma 30 family of artillery navigation and pointing systems, the Sigma 30-700, to meet the evolving needs of manufacturers of long-range 52 caliber and long range artillery systems.
Offering fully autonomous operation on the artillery piece, Sagem's new Sigma 30-700 is purpose-designed for the high-precision firing of long-range artillery. Like the rest of the Sigma 30 family, it guarantees the same degree of precision without GPS, or with signal jamming or decoys. Based on its performance characteristics, the Sigma 30-700 can also be used in counter-battery or air defense long-range radars.
The Sigma 30, in connection with the ballistic computer, gives artillery pieces a significant operational advantage by supporting fast deployments and a wide range of scenarios in both symmetrical and asymmetrical engagements.
Sigma 30 systems are based on digital ring laser gyro technology with a long optical path (32 cm), and call on Sagem's proven industrial and technological expertise in navigation systems.
Systems in the Sigma 30 family have already been selected by more than 40 artillery programs worldwide. Coupled to the Caesar guns deployed by the French army, they have demonstrated their capabilities in different theaters of operation.
Sagem
29.09.2012

Share...





Safran Electronics & Defense unveils new Sigma 30 range of artillery navigation and pointing systems
16.06.2016
Sagem wins new international contract for SIGMA 30 pointing system on PzH 2000 artillery system
15.04.2014
Sagem wins order from Nexter Systems to supply 37 SIGMA 30 pointing systems for CAESAR gun export contract
07.03.2014
Sagem And Thales Create Optronics Joint Venture, OPTROLEAD
28.07.2012
Sagem Defense Securite (SAFRAN Group)
Discuss