FMV receives delivery of the first Archer pieces
Category: Defence Industry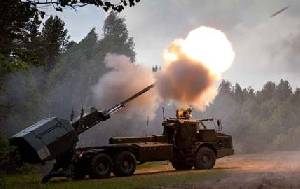 BAE Systems Bofors delivered the first pieces of the Archer artillery system to FMV Monday, September 23. The acquisition of Archer is a joint Nordic project in collaboration with Norway and a total of 24 pieces was commissioned for the Swedish Armed Forces from BAE Systems Bofors.
This is a project that delivers one of the best artillery systems. We have had both successes and setbacks in the project, but now the first four pieces of the Archer artillery system could finally be delivered, says Lena Erixon, FMV Director General.
The fact that we could receive the first pieces now is a result of our Norwegian partners at FLO, the supplier BAE Systems Bofors – and of course FMV who in the situation acted flexible and powerfully. All have helped to get the pieces to the Artillery regiment. They will now be transported to Boden where FMV, FLO and the artillery regiment will continue with both tests and training, says Lena Erixon.
Delivery of the first Archer pieces from Lena Gillström BAE Systems Bofors to FMV's Director General Lena Erixon took place in Karlskoga, Monday, 23 September at 16.00 pm. Thereafter delivery inspection and transportation to the artillery regiment occurred.
FMV
25.09.2013

Share...





BAE Systems to deliver vehicle mounted mortar systems to Swedish Army
25.12.2016
Safran Electronics & Defense unveils new Sigma 30 range of artillery navigation and pointing systems
16.06.2016
BAE Awarded Contract to Refurbish CV90 Vehicles for Sweden
01.04.2016
BAE Delivers ARCHER Artillery System to Sweden
30.09.2015
Archer (Self-propelled howitzer)
Discuss