104 German Leopard 2 MBTs to be modernized
Category: Contracts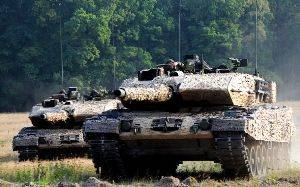 Rheinmetall will soon be modernizing part of the Bundeswehr's fleet of Leopard main battle tanks, implementing a comprehensive array of upgrade measures. The Düsseldorf-based technology group for mobility and security will be responsible for key parts of a combat performance upgrade programme that will bring 104 Leopard 2 tanks up to state-of-the-art design status. Coupled with additional services, the modernization package is worth a total of ˆ118 million. The first serially retrofitted Leopard 2 A7V tanks will reach the Bundeswehr starting in 2020.
Rheinmetall will be transforming a total of 68 Leopard 2A4, 16 Leopard 2A6 and 20 Leopard 2A7 main battle tanks, bringing them up to A7V standard. In the process, Rheinmetall specialists will be eliminating obsolescent features in the fire control computers and control consoles as well as installing a new laser rangefinder and thermal imaging device.
In addition, Rheinmetall will be supplying the new L55A1 gun for the 68 Leopard 2A4 MBTs to be modernized. These tanks will therefore be able to fire the latest generation of armour-piercing ammunition in the upper pressure zone. All 104 Leopard 2A7V tanks will be capable of using Rheinmetall's new programmable DM11 multipurpose round.
The order underscores once again Rheinmetall's leading role in tank main armament design and electronic components for modern fighting vehicles.
Rheinmetall
28.09.2017

Share...





Rheinmetall MAN Survivor R special protected vehicle on show at GPEC 2020 international security exhibition in Frankfurt/Main
24.02.2020
Rheinmetall books ˆ110 million-contract to extend the service life of the Marder infantry fighting vehicle for the Bundeswehr
21.01.2020
Denmark and Germany receive the latest versions of the LEOPARD 2
07.11.2019
Rheinmetall to Feature Next Generation 130mm Tank Gun at AUSA Global
04.11.2019
Rheinmetall MAN Military Vehicles GmbH - RMMV
Rheinmetall Verseidag Ballistic Protection GmbH
Rheinmetall Soldier Electronics GmbH
Rheinmetall AG, Representative Office Abu Dhabi
Rheinmetall Waffe Munition GmbH
Rheinmetall Defence Electronics GmbH
Rheinmetall Waffe Munition Arges GmbH
American Rheinmetall Munitions, Inc. - ARM
Rheinmetall Denel Munition (Pty) Ltd - RDM
Leopard 2 Strv 122 (Main battle tank)
Leopard 2 Strv 121 (Main battle tank)
Leopard 2/Pz87 (Main battle tank)
Lahat Leopard 2 (Modernization of the vehicle)
Discuss