Rheinmetall wins major orders for NBC reconnaissance equipment and electronics totalling over 80 million euro
Category: Defence Industry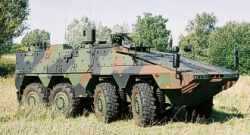 The defence technology arm of Rheinmetall AG of Düsseldorf has recently booked orders worth over 80 million euro for military vehicle electronics and NBC reconnaissance equipment.
Of this amount, some €60 million relates to orders for electronic assemblies for the German-Dutch Boxer. Thus, as part of the consortium tasked with producing this new all-wheel-drive wheeled armoured vehicle, Rheinmetall now also assumes responsibility for manufacturing and supplying the electronics for all variants of the vehicle. The order encompasses the complete controller area network (CAN) bus system as well as other high-end components.
In the realm of NBC reconnaissance technology, the US, Switzerland and Germany have recently contracted with Rheinmetall to supply highly mobile systems for detecting nuclear, biological and chemical agents and other hazardous substances. Worth around €25 million in total, these orders reinforce Rheinmetall's status as the global leader in NBC detection and reconnaissance, both civil and military.
The US military has awarded Rheinmetall a contract for modernizing an initial 18 of its 123-strong fleet of Fox NBC-RS reconnaissance vehicles, which will bring them up to the latest technical standard. In Germany, too, 37 Fuchs/Fox NBC reconnaissance vehicles are now earmarked for modernization.
A new era in NBC reconnaissance will open for the Bundeswehr when advanced bio detection technology is integrated into Rheinmetall's Yak armoured transport vehicle, making it possible to detect weaponized biological agents and similar hazards for the first time. The Bundeswehr has now contracted with Rheinmetall to build a demonstrator version.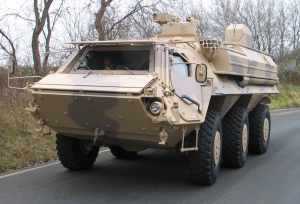 Existing NBC reconnaissance systems have hitherto possessed only a very limited biological detection capability. Developed by Rheinmetall, the new Bio version of the Fuchs/Fox NBC armoured reconnaissance is set to change all that. Starting in 2008, the company will begin supplying these state-of-the-art systems to the United Arab Emirates. The technology can be integrated into an extremely wide variety of carrier vehicles. Taking an important initial step, the Swiss Army has ordered a prototype version of a mobile NBC field laboratory that includes bio detection components, the first of an anticipated total of twelve.
The company expects the aforementioned countries to place follow-up orders worth a total of around 50 million euro.
Rheinmetall
19.10.2007



www.army-guide.com
Share...





Rheinmetall MAN Survivor R special protected vehicle on show at GPEC 2020 international security exhibition in Frankfurt/Main
24.02.2020
Rheinmetall books ˆ110 million-contract to extend the service life of the Marder infantry fighting vehicle for the Bundeswehr
21.01.2020
£2.8bn armoured vehicle contract secured for British Army
11.11.2019
Rheinmetall to Feature Next Generation 130mm Tank Gun at AUSA Global
04.11.2019
Rheinmetall MAN Military Vehicles GmbH - RMMV
Rheinmetall Verseidag Ballistic Protection GmbH
Rheinmetall Soldier Electronics GmbH
Rheinmetall AG, Representative Office Abu Dhabi
Rheinmetall Waffe Munition GmbH
Rheinmetall Defence Electronics GmbH
Rheinmetall Waffe Munition Arges GmbH
American Rheinmetall Munitions, Inc. - ARM
Rheinmetall Denel Munition (Pty) Ltd - RDM
Reutech Fuchs Electronics (Pty) Ltd
Boxer GTK/MRAV/PWV (Wheeled armoured personnel carrier)
TPzl-FOX/FUCHS (Nuclear/biological/chemical reconnaissance vehicle)
TPzl-FOX/FUCHS (Command vehicle)
FUCHS 2 (Nuclear/biological/chemical reconnaissance vehicle)
Boxer IFV (Infantry fighting vehicle)
Boxer BDR (Repair and recovery vehicle)
Boxer C (Ammunition resupply vehicle)
Boxer C2 (Ammunition resupply vehicle)
Boxer CPV (Control and command vehicle)
Fuchs/Fox KAI (Mine clearing vehicle)
Boxer SPH (Self-propelled howitzer)
Boxer HEL (Fire support vehicle)
Discuss