Force Protection Awarded $379 Million MRAP Contract, Additional Sales Orders to Follow
Category: Contracts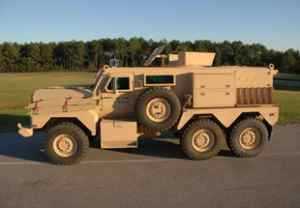 LADSON, S.C. -- Force Protection, Inc. today announced it has received a delivery order for an additional 358 Mine Resistant Ambush Protected (MRAP) Category I and Category II vehicles from the U.S. Marine Corps Systems Command (MARCORSYSCOM), which is acting as the lead contracting agency for the Department of Defense. The total approximate value of the order is $379 million.
MARCORSYSCOM also advised Force Protection that its Cheetah vehicle proposal is in the competitive range for continued development and testing and will be further evaluated with modifications as part of the ongoing MRAP II competition.
"In addition to this order from the Marine Corps Systems Command, we intend to continue working with the Army to field the Cougar vehicle in a way that will meet the Army's objective of reducing sustainment and life cycle expense," said Gordon McGilton, CEO of Force Protection, Inc. "The MRAP vehicle program requirements are based on the very design characteristics of our Cougar and Buffalo – the most proven and effective vehicles of this kind in service, and the Army continues to be a valued customer under the MRAP Category III Buffalo program. We are in the process of finalizing a contract for the Buffalo route clearance vehicles to be part of the Ground Standoff Mine Detection System (GSTAMIDS) program of record.
"We are pleased that the Marine Corps, Navy, and Air Force continue to select our proven Cougar MRAP for their Category I and II vehicle requirements," said McGilton. "The Cougar JERRV variant is already meeting joint service requirements for explosive ordnance disposal teams and continues to be the gold standard in performance where it matters most—on the battlefield."
In related activities, foreign military sales have also been approved to the United Kingdom and Italy for approximately 300 Cougar and Buffalo vehicles. These contracts have a combined estimated value of $150 million, and include spare parts and sustainment items.
"As U.S. requirements for MRAP vehicles rise and fall, we are pleased to see the release of orders to foreign militaries," said McGilton. "We are aware of several other countries who have expressed additional need for these life saving vehicles, and we expect to receive approval to service them as well."
Deliveries for Cougar Category I and II vehicles in the MRAP program are executed through the company's joint venture, Force Dynamics, LLC, with General Dynamics Land Systems. As reported at the end of November, Force Dynamics is 68 vehicles ahead of the contracted MRAP delivery schedule. Buffalo Category III vehicles are sole-sourced to Force Protection and produced independently in Ladson, SC.
Force Protection
21.12.2007

Share...





Rheinmetall MAN Survivor R special protected vehicle on show at GPEC 2020 international security exhibition in Frankfurt/Main
24.02.2020
The Dutch armed forces select Rheinmetall to modernize their Bergepanzer 3 Büffel
17.05.2019
BAE Systems awarded Armored Multi-Purpose Vehicle contract modifications by U.S. Army for Low-Rate Initial Production
24.02.2019
Rheinmetall Mission Master Dominates European Ground Robotic Systems Competition at ELROB 2018
04.11.2018
Discuss