Thales to supply a Deployable Tactical Internet to the Signal Corps of the United Arab Emirates
Category: Defence Industry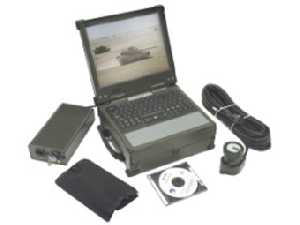 The Signal Corps of the United Arab Emirates and Thales have signed a major contract for the development and supply of ZAGIL, a theatre wide deployable Tactical Internet system.
Thales has been selected after an international competition involving deep system analysis and intense field trials. ZAGIL, based on Thales Di@ne solution, combines all the specific military requirements such as mobility, security, hardening, with the latest multimedia information exchange capacities offered by modern IP technology.
The Deployable Tactical Internet ZAGIL is a Di@ne solution. Its network backbone relies on the TRC 4000 family of secure, tactical, high data rate microwave radios. The TRC 4000, already selected/used by French, British and Swiss Armed Forces, offers an excellent combination of range, bandwidth - 34 Mbps full duplex - and functionality to convey heavy IP traffic over encrypted transmission links.
The communication nodes of ZAGIL can quickly be set up and torn down to cope with the accelerated pace of field deployments. Seamless interoperability with the mobile components of the battlefield is provided thanks to automatic combat net radio integration such as the Thales F@stnet VHF and Skyf@st HF radios.
The wireless access to Di@ne is achieved by the Thales brand-new tactical mobile WiMAX solution providing Point-To-Multipoint broadband IP connections. This innovative mobile WIMAX solution delivers multi-Mbps data rate at long range for voice data and video transmissions and greatly enhances the connectivity of the C4I Command Posts.
High level quality of service adapted to military environment is ensured by the Thales "IP Services" providing features such as precedence and pre-emption while using future-proof COTS routers and switches. Network management and configuration is made extremely simple and user friendly using the Thales management software suite.
"ZAGIL will get the latest battlespace digitisation technology available on the market to support their overall C4ISR network centric warfare programmes. Thales is proud of the trust of the United Arab Emirates", indicates Pierre Suslenschi, Thales vice president for tactical communications from Land & Joint Systems activity of Thales.
Thales is a leading international electronics and systems group, addressing defence, aerospace and security markets worldwide. Thales's leading-edge technology is supported by 22,000 R&D engineers who offer a capability unmatched in Europe to develop and deploy field-proven mission-critical information systems. Thales employs 68,000 people in 50 countries with 2007 revenues of EUR 12.3 billion.
Thales
27.04.2008

Share...





TEMPORARY COMPANY GROUPING EBMR MEETS ITS DELIVERY OBJECTIVES FOR 2019
14.01.2020
Rheinmetall Presents Next Gen "Wiesel Wingman" solution for Robotic Combat Vehicle – Light at AUSA 2019
04.11.2019
THALES AUSTRALIA AND GENERAL DYNAMICS ORDNANCE AND TACTICAL SYSTEMS DELIVERING FOR THE ADF
12.06.2019
Robotic Warfare Systems Will Bring Disruption to the Battlefield, Milrem Robotics' Study Finds
25.04.2019
Thales Raytheon Systems France
Thales Optronics (Taunton) Ltd
Thales Training & Simulation (USA)
Discuss