M113 upgrade project back on track
Category: Defence Industry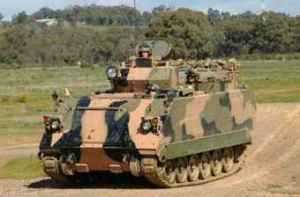 Greg Combet, Parliamentary Secretary for Defence Procurement, today announced that the M113 upgrade project was now back on track and estimated to meet its original schedule and specifications within budget.
The Land 106 project will deliver 350 upgraded M113 Armoured Personnel Carrier vehicles with improvements in their protection, firepower, mobility and supportability.
"The M113 project experienced some well-known technical problems in the development phase, and it was feared these problems would impact on the cost and schedule of the project," Mr Combet said.
"I am now advised that the serious technical risks faced by the project have now been resolved, the schedule pressures have been reduced, and the project does not face cost pressures," said Mr Combet.
"The upgraded Armoured Personnel Carriers have successfully concluded a long and rigorous testing program and our troops are receiving a reliable vehicle that delivers increased firepower, protection and mobility."
Sixteen vehicles have now been delivered to the Army's 7RAR (mechanised infantry). Another nine vehicles (six initial production vehicles and three pre-production vehicles) are being operated in training at Puckapunyal and Bandiana. A further ten vehicles will be issued for training shortly.
"Production at Tenix's Bandiana facilities is now being ramped up from approximately four vehicles per month to more than 10 vehicles per month to achieve the delivery of the final vehicle by December 2010, in accordance with the original schedule," Mr Combet said.
"Under the project, a total of 329 vehicles are due to be upgraded to the 18 tonne M113AS4 standard, and 21 vehicles will be upgraded to the 15 tonne M113AS3 standard. I would like to thank both Tenix and DMO for all of hard work in providing a way forward for this project," Mr Combet said.
Mr Combet recently inspected a number of upgraded M113 vehicles over two visits to Puckapunyal.
Australia DoD
22.05.2008

Share...





THALES AUSTRALIA AND GENERAL DYNAMICS ORDNANCE AND TACTICAL SYSTEMS DELIVERING FOR THE ADF
12.06.2019
EOS launches new ultra light R150
08.09.2018
Australia Orders 211 Boxer Wheeled Armoured Vehicles
17.08.2018
Leonardo DRS Battle Management Hardware Successfully Supports Australian Tanks During Combat Exercise
27.07.2018
Asia-Pacific Defence Reporter (Advertising, Australia & International)
Jane's Information Group (Australia)
ADVANCED POWER AUSTRALIA PTY LTD
Combat Clothing Australia Pty Ltd (CCA)
Specialist Training Australia - STA
Simulation Industry Association of Australia
M113 (Modernization of the vehicle)
M113 (Modernization of the vehicle)
M113 (Modernization of the vehicle)
M113 AS3 (Modernization of the vehicle)
M113 (Tracked armoured personnel carrier)
M113 (Modernization of the vehicle)
M113 VADS (Anti-aircraft system)
m113 (Armoured vehicle-launched bridge)
M113 C+R (Reconnaissance Vehicle)
M113 (Modernization of the vehicle)
M113 (Self-propelled antitank guided missile system)
M113 HVMS (Fire support vehicle)
Discuss