Meggitt Wins Further Abrams Tank Cooling Contract
Category: Contracts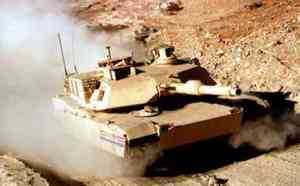 Meggitt Defense Systems has won a $35.7 million contract modification of a multi-year contract for M1A2SEP Abrams thermal management systems from General Dynamics.
An additional modification valued at $6.5 million was awarded for the reset of 180 thermal management systems from vehicles returning from combat operations overseas.
The thermal management system, which includes vapour system compression and air handling units, should be delivered between April 2009 and April 2013 to support the US Army's fleet modernisation.
Meggitt's thermal management system delivers 7kW of critical cooling for the Abrams main battle tank crew and electronics, providing comfort for the crew and enhancing the reliability of the vehicle's suite of sophisticated electronic systems. Meggitt Defense Systems developed the innovative and patent-protected system under contract from General Dynamics and has delivered over 1,300 systems, including spares, support and reset since 2000.
Dr Roger Brum, President of Meggitt Defense Systems commented: "Our team has worked closely with General Dynamics to bring the highest reliability, best value product to our ultimate customer, the US Army. We are proud that these high standards continued to be reflected in these additional contract awards."
The work will be carried out at the Meggitt Defense Systems facility in Irvine, California.
Meggitt
02.04.2009

Share...





KONGSBERG CONCLUDES A $ 54 MILLION CONTRACT FOR THE DELIVERY WEAPON STATIONS TO CANADIAN ARMY
05.06.2020
Germany awards 159 MUSD vehicle contract to GDELS
24.04.2020
Switzerland awards contract to General Dynamics European Land Systems- Mowag to deliver 100 EAGLE 6x6 reconnaissance vehicles
06.12.2019
General Dynamics Land Systems–UK showcases adaptable Foxhound vehicle at DSEI 2019
23.09.2019
General Dynamics Land Systems - GDLS
General Dynamics Ordnance and Tactical Systems
General Dynamics European Land Systems-Mowag GmbH
General Dynamics Santa Barbara Sistemas
General Dynamics Armament Systems
General Dynamics Defence Systems
General Dynamics European Land Systems-Steyr GmbH
General Dynamics Armament and Technical Products (GDATP)
General Dynamics Amphibious Operations - GDAMS
General Dynamics Corp., Advanced Information Systems
General Dynamics Robotic Systems - GDRS
General Dynamics Land Systems - GDLS - Canada
General Dynamics European Land Systems - GDELS
Discuss