AM General and General Motors in Military Marketing Agreement
Category: Defence Industry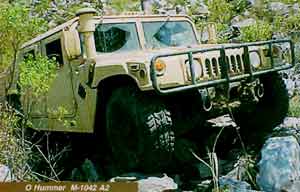 DETROIT – AM General, manufacturer of the military Humvee and the civilian HUMMER H1 and H2, and General Motors Corporation executed an agreement covering the development of a marketing arrangement through which AM General would assume marketing and sales responsibility for military vehicles manufactured by General Motors Corporation.
GM offers three military support vehicles – the Chevrolet Silverado 2500 HD in either regular, extended or crew cab models, complete with a militarized Cargo/Troop Carrier, as the baseline configuration or upgraded for off-road with an enhanced mobility package. Sales of these vehicles in 2003 totaled nearly 1,700 units, primarily to U.S. and international military organizations.
"This agreement benefits both AM General and General Motors," executives of the two companies said in a joint statement. "It leverages each company's strengths and core competencies to broaden each company's business base. "AM General has particular strengths in military applications and an in-depth knowledge in military procurement," said Ed Peters, president of AM General Defense.
"GM brings its skills in the latest automotive technologies and large manufacturing operations," said John Gaydash, director of marketing for GM's Fleet and Commercial Operations. "Together, we are confident that we will raise this business to a new level."
With the agreement, GM's military-enhanced vehicles will be available for the first time on the General Services Administration's schedule which makes it easier for all government agencies – military and non-military – to order these vehicles that have added capability over a regular-production Chevrolet Silverado.
AM General is a world-leader in the design, engineering, production and technical and parts support of military and special purpose vehicles and has the largest world distribution of all-purpose Standard Military Patterned vehicles. The HMMWV (High Mobility Multi-purpose Wheeled Vehicle, pronounced Humvee) has been the mainstay truck of the U.S. military since 1985. AM General has produced more than 180,000 HMMWVs for the U.S. and more than 50 friendly international forces.
AM General also assembles HUMMER H2 vehicles for GM. GM owns the HUMMER brand name and is responsible for marketing and sales of both HUMMER H1 & H2 vehicles through its dealer network.
Military-specific equipment on the Silverado Cargo/Troop Carrier includes an M16/M14 weapons rack; NATO slave start receptacle; blackout lighting; heavy-duty front and rear bumpers; troop seats; front brush guard; front and rear tie-downs, making this vehicle certified for air transport; tow pintle hook and trailer-light hookup. The Enhanced Mobility Package adds equipment to the drivetrain, suspension system and underbody to operate in arduous road conditions.
AM General
05.05.2005

Share...





U.S. Army Awards AM General $51.3 Million Contract For High Mobility Multipurpose Wheeled Vehicles
07.10.2018
AM General Awarded 5-Year Requirements Contract For Up To 2,800 M997A3 HMMWV Ambulances
07.10.2018
U.S. Army Places $100.1 Million Order For 258 Joint Light Tactical Vehicles
23.12.2017
Hawkeye lightweight SPH from Mandus Group will take part in MFIX
30.11.2017
General Motors Of Canada Limited
Hummer M-1042 A2 (Tactical vehicle)
M997 HMMWV (Ambulance vehicle)
M996 HMMWV (Ambulance vehicle)
M1025 HMMWV (Tactical vehicle)
M1026 HMMWV (Tactical vehicle)
M1035 HMMWV (Ambulance vehicle)
M1038 HMMWV (Tactical vehicle)
M997A3 HMMWV (Ambulance vehicle)
HMMWV/Hawkeye 105 (Self-propelled howitzer)
Discuss