KMW supplies new MUNGO NC Recce
Category: Contracts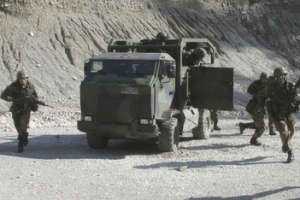 Munich -- The Federal Office of Defence Technology and Procurement (BWB) has commissioned Krauss-Maffei Wegmann (KMW) to supply a light, air-portable reconnaissance vehicle for nuclear and chemical threats, in the form of the new MUNGO NC Recce.
To this end, KMW will initially produce a reconnaissance vehicle which will start trials at the start of 2010. There are plans for a total of 25 of the MUNGO NC Recce in series production.
The armoured wheeled vehicle has a three-man crew (commander, driver, reconnaissance technician). From the spacious, open-plan and completely protected cabin they can use lightweight NC reconnaissance equipment to detect and identify threats from nuclear and chemical warfare agents or comparable industrial potential risks. The crew does not have to leave the vehicle to achieve this.
When the crew detects a threat from nuclear or chemical warfare agents they attach markers to the ground by means of another system, thus warning following troop formations of the danger in question. The crew can also use their systems to collect all the relevant meteorological data. For communication the MUNGO NC Recce is linked to the army's command, control and information system (FuInfoSys Heer).
As a result of its compact external dimensions and low weight, the MUNGO NC Recce is air-portable in a CH-53 transport helicopter, for example. That makes it particularly suitable for deployment with air assault forces. In C130 and A400M military transport aircraft it is actually possible to transport up to three vehicles at once.
With its all-wheel drive, its high top speed and its tight turning circle, the MUNGO NC Recce is extremely mobile. In combination with its enhanced level of protection, the vehicle thus offers ideal driving capabilities both on and off-road. The dimensions of the MUNGO NC Recce also make it suitable for use on narrow tracks.
KMW
20.05.2009

Share...





Multimillion-euro order from Hungary
02.10.2019
Krauss-Maffei Wegmann supports the modernization of the Hungarian Army
22.12.2018
Rheinmetall ships 200th Puma IFV to the Bundeswehr
05.06.2018
Lithuania boosts army with 88 BOXER vehicles
24.08.2016
Krauss-Maffei Wegmann GmbH & Co.KG - KMW
Mungo ESK (Wheeled armoured personnel carrier)
Mungo N/C Recce (Nuclear/biological/chemical reconnaissance vehicle)
Discuss