Humvee still made in America
Category: Defence Industry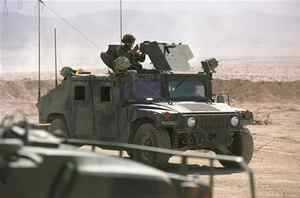 WASHINGTON -- The military's High Mobility Multipurpose Wheeled Vehicle, also known as a "HMMWV" or a "Humvee," will continue to be made in the United States, by an American-owned company.
The recent announcement that Detroit-based General Motors will sell their Hummer brand of vehicles to Chinese-based Sichuan Tengzhong Heavy Industrial Machinery Company, has no bearing on the U.S. military's Humvee.
"The Army's Humvee and the civilian Hummer look similar and share a common appearance," said spokesman Lt. Col. Martin Downie. "But the rights to produce those two different vehicles are no longer owned by the same company."
Humvee manufacturer AM General is an American company based in South Bend, Ind. The company produced the first 55,000 Humvees for the Army in 1985. The company continues today to produce the Humvee for the military.
In the early 1990s, AM General began producing a civilian version of the Humvee, calling it a "Hummer." But by the late 1990s, AM General had sold the Hummer name to General Motors.
While GM will sell the Hummer nameplate to Sichuan Tengzhong, the military's Humvee, its designs, unique performance capabilities and technologies will continue to be owned by, and the vehicle produced by, AM General.
AM General
10.08.2009

Share...





U.S. Army Awards AM General $51.3 Million Contract For High Mobility Multipurpose Wheeled Vehicles
07.10.2018
AM General Awarded 5-Year Requirements Contract For Up To 2,800 M997A3 HMMWV Ambulances
07.10.2018
Hawkeye lightweight SPH from Mandus Group will take part in MFIX
30.11.2017
GM Outlines Possibilities for Flexible, Autonomous Fuel Cell Electric Platform
13.10.2017
General Motors Of Canada Limited
Discuss